100. Madonna--Take a Bow ***
The second _Bedtime Stories_ excursion into the weird, with M harboring an obsession for a Spanish matador. Like "Secret" (see #51), this is a good song and a reasonably good video, but as always, too much Madonna cleavage leaves a bad aftertaste.

99. Mazzy Star--Fade Into You **
One of the great one-hit wonder songs of the year, from an alternative/psychadelic duo. So which one's "Mazzy" and which one's "Star"? See, if this wasn't a rough, unpolished feature, that last sentence would have been gone before you could say "Which one's Mazzy..." Anyways, "Fade Into You" is a laid-back, mellow, let's-get-stoned (as Grandma always says)
kind of groove. The problem is the video's the same way, with lingering slow-motion shots of inanimate objects (i.e. band members). Not much fun if you're sober.

98. Lucas--Lucas With the Lid Off ***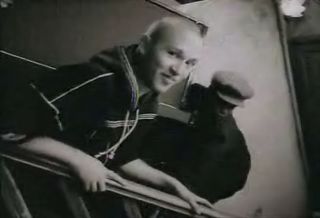 A one-take deal with no edits or corrections. The "Lucas With the Lid Off" video makes about as much sense as its song title. I won't even get into what this video's about, since I can't figure it out. I have just one question -- is Lucas black or white? Bet you didn't know his last name was Jackson, did you?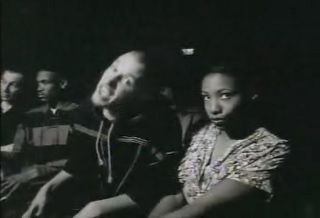 97. Aerosmith--Blind Man **1/2
The worst Aerosmith video since "Eat the Rich." Not coincidentally, also the first video after "Eat the Rich" not to feature Alicia Silverstone. But I'm not breaking out the noose just yet, since in Alicia's place this time is "Baywatch" babe Pamela Anderson, as a nurse who gives a geeky kid with broken arms and legs a sponge bath you-know-where. Strange how much can be implied on TV without actually showing it. Thank God they _didn't_ show it.
96. Immature--Never Lie *
I cannot tell a lie. This video sucks. A bunch of nine year-olds are singing shirtless about true love.
Interesting how your career can be over before you even reach puberty. Let's ask (The Artist Formerly Known as) Prince about that, shall we?
95. Weezer--Undone (The Sweater Song) *1/2
Like I said, I'm no Weezer fan. While I think the "Buddy Holly" video is great stuff, I also think it was a one-time thing for Weezer, a result of the director's talent, not the band's. Take away the "Happy Days" clips and bad wigs and you've got this ode to dorkiness with none of the charm or watchability of "Buddy Holly." Someone get these guys back in a
sitcom quick!
94. Mariah Carey--Hero **
From the same concert performance as the "Without You" video, with a slightly less shapeless
black outfit. Nothing more than mediocre here. Let's just hope Mariah's through releasing concert performance videos for awhile.
93. Heavy D. & The Boyz--Nuttin' But Love ***
Actually, it's Heavy D. & The Girlz this time, as nearly a dozen gorgeous models respond negatively to Heavy D's offer of "nuttin but love." Glad to see the music video world has enough common sense to have
beautiful women actually turn down a preposition from an unattractive fat guy every once in awhile. If only they didn't do that in the real world...
92. Sheryl Crow--Leaving Las Vegas **1/2
The overlooked, underplayed predecessor single to the underlooked, overplayed "All I Wanna Do." And for good reason. The video is pretty bland, with Sheryl in the middle of a desert with a bunch of Elvis impersonators (don't ask). You know, Sheryl, it would help your singing career a lot if you'd actually learn how to sing.
91. Da Brat--Funkdafied ***
Another of the good rap anthems of 1994, from the same producer who brought us Kris Kross (So which one's "Kris" and which one's "Kross"? I should've known that joke would be even worse the second time) and Xscape. And like Kris Kross and Xscape, Da Brat has already disappeared from the
music scene after one hit. No wonder.
90. Soundgarden--Fell on Black Days **
One of those alternative groups that's okay to listen to as long as you don't have to watch them sing. They look pretty grotesque. This, their third _Superunknown_ video, consists of black-and-white shots of the band singing on a soundstage. This doesn't deserve the #90 slot!
89. Cranberries--Dreams **
Irish band with a lead singer that sounds pretty much like a bleating goat. Color shots of the band
singing on a soundstage. The fact that this looks like something out of the mid-'80s is an added disadvantage.
88. Salt-N-Pepa--Heaven or Hell **1/2
Salt and Pepa are never bad to look at, but this is most likely the only Salt-N-Pepa song in history that's not about sex. Instead, it concerns the plight of the
ghetto and even has a verse about God to boot. I don't know what you guys did with the real Salt and Pepa, but give 'em back.
87. Aaron Hall--I Miss You *
Another whiny bald R+B singer who wants to get wit' every sista on God's green earth. Why doesn't he just change his name to A. Kelly? This video follows the pregnancy of Hall's girlfriend, from the conception (of course) through labor and eventual delivery. I found it kind of weird when Aaron was singing about love-making and there was a shot of a newborn baby on the screen. Aren't there laws against that sort of thing?
86. Live--Selling the Drama *1/2
Your typical incomprehensible alternative video, with a few too many shots of the lead singer's open mouth for my tastes. How do all these geeks get
record contracts anyway?!
85. Crystal Waters--100% Pure Love **1/2
One of the best dance tracks of the year, from the same woman who brought us "Gypsy Woman [She's Homeless (La-Da-Di, La-Da-Da)]" back in 1991. And I'm sure everyone thought Crystal was homeless by now, until she made a triumphant comeback this summer with "100% Pure Love," making her a two-time one-hit wonder.
84. Madonna--I'll Remember (Theme From _With Honors_) *1/2
A forgettable video from the big M, also her 27th
movie theme song. You know, outside of the music video world, Madonna's been looking like a hardened, wrinkled, semi-old fart lately, but through the magic of trick-photography, she's still looking good in her videos. Too bad there's nothing to this video, though.
Madonna is singing, fully-clothed, on--you'll never guess--a soundstage, in front of a giant movie screen, watching clips from the box-office bomb _With Honors_.
83. Alice in Chains--I Stay Away **
And I'd stay away from this video if I were you. The band was too stoned to appear in this video, so the director concocted some Claymation doubles for a strange tale of a circus gone horribly wrong. But to be honest, it is the first Claymation film I've ever seen with a "lion-mauling" sequence.
82. Gin Blossoms--Until I Fall Away **
Much like Soundgarden, the Gin Blossoms are okay to listen to as long as you don't have to watch them sing. Nothing remarkable here, just the band on a soundstage, with occasional shots of exploding hour-glasses.
81. Janet Jackson Featuring M.C. Lyte--You Want This ***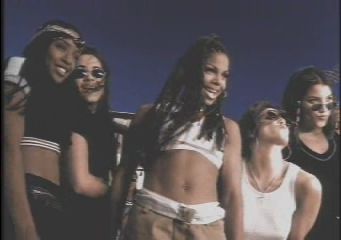 Janet Jackson's sixth _janet._ video, also the sixth consecutive to feature gratuitous shots of her belly button. Does this woman have a naval fetish or what? Whatever would Michael say? In this video, J. and her posse are teasing a bunch of guys who are after their bods. Where could they have gotten the idea that Janet was easy? From her last five videos, maybe?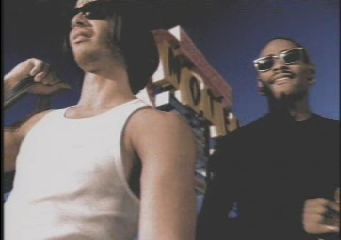 80. Jodeci--Cry For You *
The R+B group gets dramatic about a girl we never see. Nothing more than four guys standing
around singing. Instead of a soundstage, though, they're out in the middle of a desert. And you know what? They can stay there.
79. Weezer--Buddy Holly ****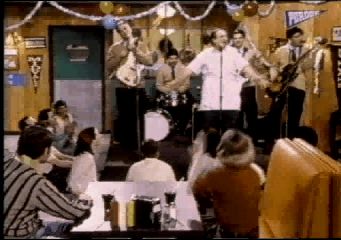 I'm certainly no Weezer fan, but even I have to admit this is one of the most brilliant videos in years. The band performs at Al's Diner from "Happy Days," with clips of the entire gang from "Happy Days," including Fonzie, watching the fragile intricacies of a band called Weezer. It looks pretty darn authentic, but I wonder if anyone noticed that Richie Cunningham's outfit changes four or five times during the course of the video. My only objection--why the heck is this video only #79?!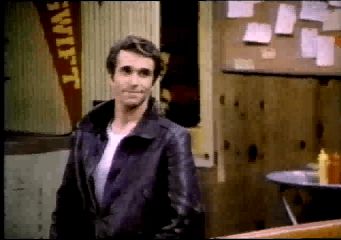 78. John Mellencamp and Me'Shell NdegeOcello--Wild Night ***
I'm no John Mellencamp fan either, but it helps that half the time in this video, we see a gorgeous model instead of John and Me'Shell, the butch-looking bisexual soul-singer who, besides having a
name no one can pronounce, is also signed to Madonna's "Maverick" record label and sings a duet with M on her new _Bedtime Stories_ album entitled "I'd Rather Be Your Lover." The thought of that is
worse than that Elton John-RuPaul number "Don't Go Breaking My Heart." But "Wild Night" is an easy video to watch, thanks to the model, who plays a New York City cab driver, even though we all
know this woman is way too good-looking to be a cab driver. I mean, she even speaks English!
77. Beastie Boys--Sure Shot ***
Those rappin' white guys are at it again with this follow-up to the landmark video "Sabotage" (#15 on the countdown). This time, the Beasties have a little
competition over which one can stick his face in the camera (which is, for some reason, on the ground. What, no budget for a cameraman?) most. And, guess what, they all win in that category.
76. Aaliyah--Back & Forth **
Blatantly mundane video from R. Kelly's 15-year old protege, who may be at the top of the alphabet but isn't quite at the top of the charts. This video does nothing to help the latter, with Aaliyah standing around a high school gym (probably a set built on a soundstage), with a bunch of guys taking freethrow shots in the background. Strictly BET material.