25. Beck--Loser **
Yeah, I agree. This guy is a loser, and a one-hit loser at that. In the vein of Offspring's "Self Esteem," Beck goes for the self-degradation thing (Lord knows I'd never do that),
quoting the memorable line "I'm a loser, baby, so why don't you kill me?" His career is certainly dead now. Unfortunately, Kurt Cobain heard this song on his last day on earth and misinterpreted the lyric as "You're a loser, baby, so why don't you kill yourself." I think we all know what happened after that.
24. Salt-N-Pepa--None of Your Business ***1/2
Perhaps the most explicit video of the year, rivaled only by the other Salt-N-Pepa songs "Whatta Man" and "Shoop." Okay, I know "Shoop" was out in '93, but for the sake of bad humor, overlook that fact. "None of Your Business" is also the dirtiest video of the year, with Salt, Pepa and Spinderella writhing in the mud (the Gorgeous Ladies of Rap--G.L.O.R. for short). Rest assured that this is artistic smut, just like Salt and Pepa are artistic sluts.
23. Offspring--Come Out and Play (Keep 'Em Separated) **1/2
The predecessor to their other Smash hit "Self Esteem." Even though it's not a bad pair of songs, we all know that Offspring is just a garage band whose members will go back to their old jobs as pool boys and car mechanics sometime in 1995. Come to think of it, this video does look like it was shot in a garage somewhere, although it's filled with enough camera tricks and what-not to keep the drab set from
looking too bad.
22. Lisa Loeb and Nine Stories--Stay (I MissedYou) ***
1994's rags-to-riches (and pretty soon back to rags) story. Loeb was a nightclub folk singer who got a big break when "Stay" was included on the Reality Bites soundtrack and an even bigger break when the song reached the Top 5. The video, directed by Reality Bites director Ethan Hawke, is a one-take one-camera deal, with Loeb wandering around a loft apartment, popping on and off-screen at
various times. She looks strange yet still exudes a weird charm, but those horn-rimmed tortoise-shell glasses have to go.
21. Snoop Doggy Dogg--Murder Was the Case ***
The epic big-budget Dr. Dre directed video where Snoop gets shot (you can't argue with that sentiment), makes a deal with the devil (I knew it!), ends up in a wheelchair, is carted off to jail, then actually dies. The problem is the song's really stupid, with lines like "I can't die, my boo-boo's about to have my baby" and "I gots nowhere to gizzo." Besides that, Snoop takes himself a little too seriously. Like the world really would care if he was shot and killed.
20. R.E.M.--What's the Frequency, Kenneth **
Another lame performance video Rock's Embarrassment Makers, with singer Michael Stipe bouncing around the stage. This video's only redeeming features are overuse of the strobe light and weird camera angles.
19. Counting Crows--Mr. Jones 0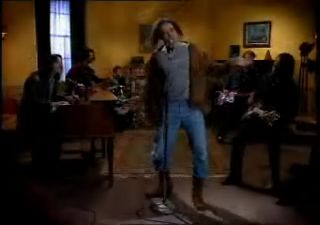 The video put on constant rotation in hell. Absolutely the worst song, video and group of the year, with the dread-locked singer lurching uncontrollably around an apartment. Shoot, not even Hitler would force someone to
watch this.
18. Green Day--Longview *1/2
The best of the Dookie trilogy, but that's still not saying much. Also, the song's lyrics caused a little controversy this year, as "Longview" is about a rather "touchy" subject (Let's just say it's been officially endorsed by Jocelyn Elders). Note to all future Green Day video directors: Leaving the band out of the video entirely would help a lot!
17. Janet Jackson--Any Time, Any Place **1/2
Belly buttons galore as Janet fantasizes about the next-door neighbor and his pet chimp. Oh my God, it's Michael! The most raunchy of the six janet. videos, the kind of thing you'd see on Cinemax around midnight.
16. Candlebox--Far Behind **
The first successful group to come off Madonna's Maverick record label. Say, you don't think all the guys in the band slept with the Big M, do you? In the "Far Behind"
video, the band takes over an empty farmhouse, with weirdness ensuing. Not very good, but after watching 75 other videos in one day, it would take pretty much to impress me.
15. Beastie Boys--Sabotage ***1/2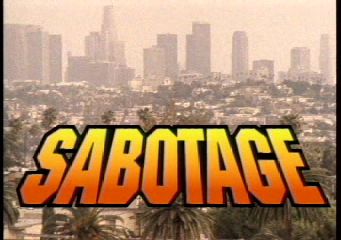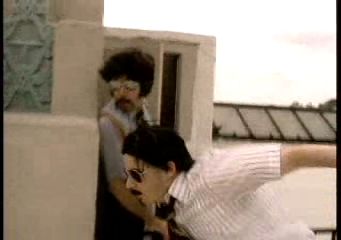 And this is just the thing, too. In a parody of 70's cop shows, the Beasties race around town, righting various wrongs and ensuring an unlimited supply of jelly donuts for all cops (not to mention bad jokes for all "Year in the
Life" readers).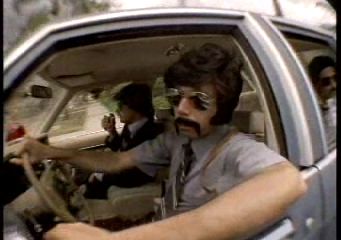 14. Ace of Base--The Sign **1/2
Runner-up for the most overplayed song of 1994, also a decent dance video. Instead of standing around looking stupid, the guys in the group spend their time here making out with the girls. Even worse. Those girls need to ditch
the losers and hang out with someone with three digits in his I.Q. and waistline. I can think of one such person...
13. Tom Petty and the Heartbreakers--Mary Jane's Last Dance ***1/2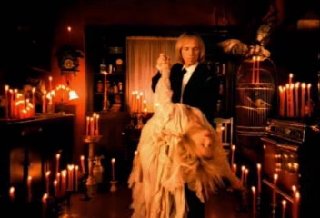 My second-favorite Petty song (after "Free Fallin'")
and favorite Petty video. Quirky morgue worker Petty steals Kim Basinger's dead body and tries all sorts of tricks to revive her. Of course, if he did bring her back to life, the sight of Tom's goofy face would be enough to scare her back to death anyway. Tom finally gives up and tosses Kim's lifeless body into the ocean, where she and Kurt
Cobain live (die?) happily ever after.

12. Stone Temple Pilots--Big Empty (unplugged) 1/2
The song title, of course, refers to the state of the lead singer's head. One of the absolute worst good song/bad video combos. If they had to put an STP video in the Top 15, they should have at least gone with "Interstate Love Song" or "Vaseline" (also officially endorsed by Jocelyn Elders) instead of this sleep-inducing video from "MTV
Unplugged," where the singer sings from a rocking chair for four minutes. No thanks.
11. Warren G. Featuring Nate Dogg--Regulate ***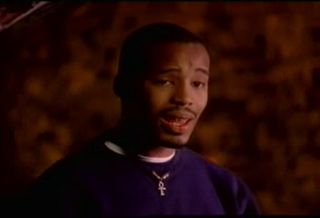 "G Funk" rap song from the movie Above the Rim, with plenty of Above the Rim clips we didn't ask to see mixed in with G. and Dogg pretty much acting out the song's lyrics. It's a good video but nothing outstanding.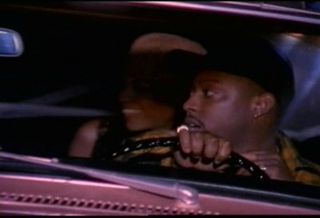 10. Aerosmith--Amazing ****
That it is. You just can't go wrong with an Aerosmith video, especially one with Alicia Silverstone. This one has a computer nerd (no, his name isn't Andrew) accessing a virtual reality fantasy scenario with Alicia submitting to
his every request. Just out of curiosity, how much do these virtual reality computers cost, anyway? I'm asking for a friend, of course. My personal pick for video of the year, but I think you know that's not my brain talking.
9. Smashing Pumpkins--Disarm *
Once again that effeminate freak who looks nothing like me works his way through another lame video. Did I mention HE LOOKS NOTHING LIKE ME?
8. Coolio--Fantastic Voyage ***1/2
One of those beach party rap songs with hundreds of bikini-clad babes. Of course, half the video involves a huge group of people climbing out of Coolio's trunk one by one while C. stands by watching. Be sure to catch the beginning and end of this one (you can change the channel during the
middle though).
7. Nirvana--All Apologies (unplugged) *1/2
Another unentertaining, bland unplugged performance from Kurt, who digs himself a grave of mediocrity. Better than the "About a Girl" unplugged video (#33), since it was a good song originally. Close your eyes during this one and it won't be so bad.
6. Offspring--Self Esteem ***
The other (and better) loser anthem of 1994, "Self Esteem" is another good video from the Offspring, although for my money, it could have used a few less closeups of the girl with the headgear boogeying around. Those damn strobe lights are starting to give me a headache.
5. Salt-N-Pepa Featuring En Vogue--Whatta Man ****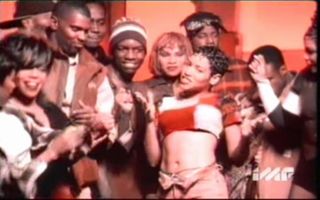 This video can be summed up in one word: Lapdancing. Rap giants Salt-N-Pepa team up with R+B giants En Vogue to pay homage to the great men of the world (namely me). This guy they rap about is perfect, which causes a few twinges of skepticism on my part. Supposing there really is a brother out there that matches that criteria, my question is, what would he be doing in a relationship with tramps like Salt and Pepa, who are usually all over multiple topless beefcakes in their videos? In their now-famous song "Shoop," they're brag about illicit sexual encounters with guys they just met. And with other songs like "Push It," "Work It," "Pump It" and various other its, what kind of mother would Salt and Pepa make for Whatta Man's kids? Besides, it's been medically proven that Salt is bad for your heart and Pepa causes you to sneeze uncontrollably.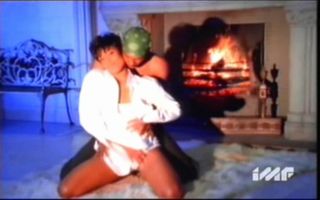 4. Soundgarden--Black Hole Sun ***
Without a doubt, the weirdest video of 1994 (if not all-time). I won't even try to explain this one, but I'm pretty sure if I watch it again, it could be fatal. If you can figure any meaning to this video, I'd like the name of your dealer.
3. Snoop Doggy Dogg--Gin and Juice ***1/2
Another great Dr. Dre-directed Snoop Doggy Dogg video, this one a "Home Boy Alone" house-party, featuring Dre himself, who drops off some "bubonic chronic." As Tom Petty would say, "let's roll another tnioj."
2. Boyz II Men--I'll Make Love to You *
I lost all respect for the music industry when this miserable "horny anthem" went to #1 for 14 weeks (which, if I'm not mistaken, is one of the signs of the Apocalypse). Its video is even worse, with one of the boyz poring over
an anonymous note to the girl he wants to make love to. What's the world coming to?
1. Green Day--Basket Case 0
Another sign of the Apocalypse (which itself would be more pleasant than watching this video), as Green Day walks away with the #1 video of the year. Their songs aren't so bad (in fact, this one is kind of catchy), but that lead singer is way off-balance. The video is aptly set in a mental hospital, with the band cast as patients. I wish this whole scenario had just been a set-up by the record company to lock the band away for good, but as of yet they're still walking the streets. The fact that this song made #1 on the "Top 100 Videos of 1994" countdown is a complete travesty. As if the MTV countdown was based on any sort of chart data anyway.