50. Anita Baker--Body and Soul *1/2
This should give you an idea of what the VH-1 count-down is like. Anita has never appeared on MTV, along with many other VH-1 staples like Gloria Estefan, Rod Stewart and Michael Bolton. This video does absolutely nothing to change that bias. The most racy this gets is when Anita dramatically tugs on her dress straps. I think I speak for everyone when I say: Anita, for God sakes, leave the dress on!

49. Toad the Wet Sprocket--Something's Always Wrong **1/2
I bet the guys in this band are wondering what went wrong with their career at this point. They used to be considered alternative, but ever since their song "All I Want" made it on Top 40 Crossover and Adult Contemporary Radio, they've been relegated to the over-30 crowd. Love the song, like the band and the video's okay, but could they have possibly picked a more stupid band name? Here, as the band rotates on a stage, a Home Shopping Network parody sells various improvement items, like the "1,001 Weird Band Names" book.

48. Janet Jackson--Any Time, Any Place **1/2
MTV #17.

47. Gin Blossoms--Until I Fall Away **
MTV #82.

46. All-4-One--So Much in Love *1/2
MTV #60

45. Cranberries--Linger *1/2
Hopefully, this band won't linger on the music scene too much longer. The first (and worst) of the Cranberries videos, "Linger" makes no sense whatsoever. Also, I've noticed the lead singer sounds like... a bleating goat. There's only so much yodeling a guy like me can take.

44. Meat Loaf--Rock and Roll Dreams Come Through **
A video where everything looks good except the singer, whom the director graciously leaves out of most of the camera shots. Someone needs to pinch this Loaf, who in this video looks a little too much like a renegade biker ("Anyone tell you you're in the private club of the Satan's Helpers?") way past his prime. Of course, the twentyish model Loaf is singing to doesn't look so bad.

43. Pretenders--I'll Stand By You **1/2
When 43-year-old Pretenders singer Chrissie Hynde said she was "too old for this s---" she wasn't kidding. She looks pretty darn stupid singing to a twentyish grunge-guy Reality Bites refugee who's down in the dumps. However, he soon seems to be feeling better after Chrissie gives him a bath. Go figure.

42. Amy Grant--Lucky One ***
You can't go to private school for eleven years and not develop a certain affinity for Amy Grant, DC Talk, Michael W. Smith, Carman and Petra. Unfortunately, "Lucky One" is the 90's equivalent of bubble gum fluff like "Yummy
Yummy Yummy." It's a hopeless "Baby Baby" clone that will never see the light of day on MTV. It is one of Amy's better videos, though, with vibrant colors (I had to use the phrase "vibrant colors" sooner or later) and a nice ocean/beach backdrop. And I get the feeling from the
lyric "You're the one I wanna be with in the dark" that her crossover from Contemporary Christian to Adult Contemporary Secular is complete.

41. Babyface--When Can I See You *1/2
MTV #48.

40. Rolling Stones--Love is Strong **
MTV #74.

39. (The Artist Formerly Known As) Prince--The Most Beautiful Girl in the World *1/2
Prince videos always give me the creeps (with the possible exception of "7"). That's right, I'm calling him Prince. My computer isn't formatted with that little symbol just yet. I may be the only person in the Continental U.S. who admits to liking this song, where Prince sings in a falsetto tone that suggests maybe he thinks he is the most beautiful girl in the world, but the video leaves much to be desired, namely that Prince wasn't in it. And is it just me, or are the "beautiful girls" in this video not really that beautiful? Of course, asking Prince to pick feminine beauty is probably like asking me to recommend a good weight loss plan.

38. Phil Collins--Everyday *1/2
Phil, whose career collapsed around the same time the Berlin Wall did (even though he's still an every-hour-on-the-hour VH-1 staple), sits around an empty apartment (right next door to Lisa Loeb's place), singing into the camera. This video should be available only by prescription as a maximum-strength sleeping aid. From the Both Sides album (you could say Phil goes both ways), which Phil produced, wrote all the songs for and played all
the instruments on. Some say this represents Phil's talent and diversity, I say it represents his need for money.

37. General Public--I'll Take You There **
I was surprised this song didn't make the MTV countdown and even more surprised that it made the VH-1 countdown. From the orgy movie Threesome, by a one-hit reggae/dance group of white guys.

36. Mariah Carey--Anytime You Need a Friend ***
MTV #62

35. Seal--Prayer For the Dying 0
Actually, this guy looks more like a beached whale to me. Seal is a huge, bald, black dude with grotesque facial scars. Here, he's singing in a great white room (padded cell?). Not such a bad song, but the title most likely applies to the state of Seal's career. You'll pray this one was over from the beginning.

34. Janet Jackson--Because of Love **
MTV #56.

33. Eric Clapton--Motherless Child 1/2
I can think of the word "mother" for this one, too, in a different sense. Next exit, Old Fartsville, mayor: Eric Clapton. I really can't stand this guy or this song or this video, where Clapton sits placidly on a stool, strumming
his guitar and chewing his cud.

32. Toni Braxton--You Mean the World to Me ***
MTV #42.

31. Richard Marx--Now and Forever **
Aside from clips from the bomb The Getaway, this is another video with a guy on a stool and his guitar (who says VH-1 doesn't offer any variety?). The song and artist I like, The Getaway I'm not too fond of, but you'd have to ask that Movie Critic at LARGE guy about that.

30. Enigma--Return to Innocence ***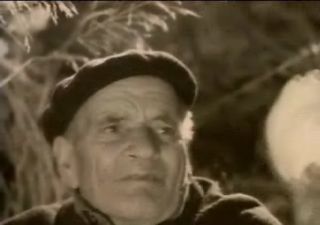 The song also known as "Hi-O-Hi-O-Hi-Hi-Hi, Hi-O-Hi-Hi" (or something like that), from a weird European group. In the "Return to Innocence" video, we see all reverse images, as it follows the life of a man from death to birth. Personally, I would have called this video "Return to the Womb."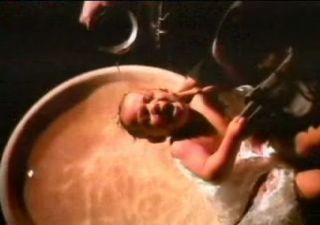 29. Crash Test Dummies--Mmm Mmm Mmm Mmm **1/2
MTV #57.
28. Gloria Estefan--Turn the Beat Around **1/2
Gloria, another artist who's been banished to the world of VH-1 as punishment for some musical sin, sings the old disco hit from the roof of a skyscraper, with two hovering helicopters singing back-up. One version of this video has clips from The Specialist (Gloria's second consecutive turkey theme, the other one from Made in America,
entitled "Go Away," advice moviegoers took to heart), the other one doesn't. Both versions get two-and-a-half stars, though.
27. Elton John--Circle of Life *
Here's another guy who couldn't get a video on MTV even if he held the president of the network at gunpoint. This, the second Elton John single from The Lion King soundtrack, has Elton singing at a piano, a slight variation
on the old guitar/stool formula, although the term "stool" definitely applies to this video.
26. Madonna--Secret **1/2
MTV #51.
25. Counting Crows--Round Here 1/2
MTV #65.
24. Big Mountain--Baby I Love Your Way *1/2
MTV #37.
23. All-4-One--I Swear *
MTV #32.
22. R.E.M.--What's the Frequency, Kenneth? **
MTV #20.
21. Mariah Carey--Without You **
MTV #35.
20. Gin Blossoms--Found Out About You **
MTV #41.
19. Toni Braxton--Breathe Again **
MTV #71.
18. Jon Secada--If You Go *1/2
I always found it interesting that, while Jon Secada definitely has some genuine dance/pop music on his CDs, MTV and the Top 40 radio stations will never have anything to do with him. However, VH-1 and adult-contemporary
radio welcomed his music with open arms and have since played this song and several other Secada tunes to death. In the "If You Go" video, Jon gets a flat tire on the way to his girlfriend's wedding. Since he's late, the girlfriend decides to marry someone else (I'm serious). However, Secada gets there just in the nick of time and breaks up the wedding. Can you believe someone got paid to think this stuff up?
17. Bonnie Raitt--Love Sneakin' Up on You 0
One of the reasons VH-1 disgusts me so is the fact that they can't get enough of this dried-up, over-the-hill country singer. This video may set off another Holocaust. I don't know what that means, but it sounds demeaning enough, doesn't it? You know what, Bonnie. Old age is sneakin' up on you.
16. Madonna--I'll Remember *1/2
MTV #84.
15. Collective Soul--Shine ***
MTV #31.
14. Lisa Loeb and Nine Stories--Stay (I Missed You) **1/2
MTV #22.
13. Ace of Base--Don't Turn Around **1/2
MTV #44.
12. Bryan Adams, Rod Stewart and Sting--All For Love *
I'd completely forgotten about this legalized torture device until this countdown. Bryan Adams I like, Sting I can stand, but Rod Stewart is "goofy face" personified. Sure, this is a team-up adult-contemporary purists have dreamed about for years, but there's just something grotesque about it I just can't put my finger on. Don't sing it again, Rod.
11. Tom Petty and the Heartbreakers--Mary Jane's Last Dance ***1/2
MTV #13.
10. Boyz II Men--I'll Make Love to You *
MTV #2.
9. John Mellencamp With Me'Shell N'dege-Ocello--Wild Night ***
MTV #78.
8. Celine Dion--The Power of Love **1/2
The adult-contemporary diva is lounging around her bedroom alone, singing. I wish I had a joke or insult here.
7. Melissa Etheridge--I'm the Only One 0
If there's any VH-1 staple I hate more than Bonnie Raitt, it's this butch lesbian who makes k.d. lang look like Miss America. "I'm the Only One" is the typical hellish rubbish you'd expect from Etheridge, with a couple non-Etheridge lesbians getting to know each other (in a "PG" sense, of
course). I tell you, only in the music video world are there two lesbians who actually resemble attractive females.
6. Bruce Springsteen--Streets of Philadelphia 0
MTV #68.
5. Sheryl Crow--All I Wanna Do ***
MTV #29.
4. Elton John--Can You Feel the Love Tonight 0
If it's possible to get worse than the "Circle of Life" video (and, oh yes, it is), this one does it. The other Lion King video, with Elton his usual homogenized self. Could it possibly be a coincidence that whoever put this countdown together included a fag and a lesbian in the Top 10?
3. Counting Crows--Mr. Jones 0
MTV #19.
2. Ace of Base--The Sign **1/2
MTV #14.
1. Melissa Etheridge--Come to My Window 0
Interesting how both countdowns managed to have videos and artists I abhor at #1. They both have mental patients, too, I've noticed. This one is played by Juliette Lewis from Natural Born Killers (in a video that's
equally lethal). Luckily, Melissa never does come to Juliette's window and smother her with kisses. If this countdown represents the "New VH-1" that was introduced this year, forget it.