Babyface – Reason For Breathing
(**) Did anyone really miss this guy while he was gone? Shit, did anyone miss him while he was here? Okay, check it out – just in time for Christmas this year, we've been treated to the Babyface Greatest Hits collection. That's for all the pussies on your holiday gift list. "Reason For Breathing," I surmise, is the token new song on the album, a cheesy, ultra-lite ballad (does a Babyface song come in any other variety?) with acoustic guitars, unobtrusive synthesizers and a bridge right out of "End of the Road." The video is actually crammed full of hotties, believe it or not, including lots of bikini girls with waist chains who romp with Da Face in exotic locales while he pretends he knows how to play the guitar. (Okay, maybe he does know how to play the guitar, but the shit he's plucking out in this video looks so fake I have to ask.) Pure, inconsequential fluff, and that's all I have to say about that. –Andrew Hicks

Toni Braxton – Spanish Guitar
(*½) Speaking of Babyface, here's his prime meal ticket from the 1992-1996 era, Toni Braxton. ("Sorry, Miss Braxton, I am fo' real! / Never meant to smoke up from ya bong / Got you singing another sad love song…" I'm gonna stop that one before it starts, but I imagine Weird Amaru Yankovic could finish it off proper-like.) I love how they just went ahead and named this song after its primary musical diversion, the Spanish guitar, but the whole affair immediately conjures to mind "Unbreak My Heart." But you couldn't expect that kind of Diane Warren Pure-Pop Magic™ out of the third single from Braxton's The Heat. No, what we have here is an artist wishing her lover would play her like that Spanish guitar he loves so much (hey, Toni, just be glad his instrument of choice isn't the skin flute). The video is filmed mostly on a white-backdrop soundstage, with exotic but phony-looking locales dropped in for good measure, an American Beauty rip-off sequence that has rose petals covering the guy's… um, lowercase spanish guitar, and a disturbingly cheesy morph shot that has a guy reaching around Toni and plucking her midriff, which dissolves into a guitar. Man. Get ready for this one, blaring from a Muzak speaker near you! –AH

Melanie C. – I Turn to You
(*) Name "Melanie C." doesn't ring a bell? How about "Sporty Spice"? Of the Spice Girls? Who reside in Spiceworld? Who couldn't sell a goddamn album now even if it had guest appearances by The Beatles and the Cash Money Millionaires? Yeah, dem's da bitches. Anyway, "I Turn to You" is being offered as a free video on The Box this week for anyone who forks over the $1.99 to order "Holler" from the Spice Girls. I've seen this clip once so far, and I want that someone else's two bucks back on my own behalf. This is crap – I thought this chick was the one who put out the solo grunge album and shit. No matter, "I Turn to You" is a reaction to the new Madonna album, and the video is a reaction to a clip from the old Madonna album. The visuals all resemble "Ray of Light," quick motion and rapid-fire editing and our matronly hero depicted as a rave queen and earth mother all at once. I bet even Bryan Adams is ready to disown her at this point. ("Fuck it," Adams says via phone interview, "I'm producing Baby Spice instead!") –AH

Madonna -- Don't Tell Me
(**½) When I first listened to Music, back at the beginning of September, I wondered what the second single would be. The techno blips of "Impressive Instant"? The William Orbit-engineered dance pop of "Runaway Lover"? Or one of the longer, more ethereal folktronica ballads. Turns out the latter was correct, as we've been honored with "Don't Tell Me," the acoustic-based midtempo track that begins with stuttering, manipulated guitar licks. And, as the video opens, the image of a cowboy hat-wearing Madonna – who's walking in front of a country-tinged blue screen* – is stopped and started again with the music. The video never gets much more sophisticated than that, alternating mainly between a casually writhing Madonna (she douses herself sensually with dirt at one point) and a band of homoerotic dancers who don't exactly line dance in a straight line, if you catch my drift (nudge-nudge). The dancing, particularly when Madonna steps in to lead them, is strong enough – and the song compelling enough – to keep this affair from being as embarrassing as the clips for, say, "Nothing Really Matters" or "American Pie." And, yes, Madonna rides a mechanical bull at one point. Just when you thought you'd never hear from Dennis Rodman again… –AH
* = I just made the wise decision not to crack any, "Madonna, did you hear about this one? / Madonna, are you goofing on Elvis?" jokes.

Shaggy – It Wasn't Me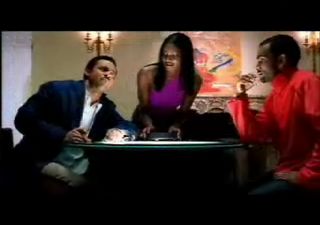 (***) We were somewhere between Caruthersville and Kennett, Mo. (home of Sheryl Crow), when we first heard this song. It was me, a friend, his brother and their uncle, and we were heading to a large-scale family reunion I was somehow talked into tagging along to. And we all thought this was a strangely catchy little number, although we had no clue if it was old, new, borrowed, blue, what. The friend told me we could probably narrow it down to the two reggae-pop artists we could rightfully expect to hear from, Maxi Priest and Shaggy, and I figured "It Wasn't Me" might be traced back to Supercat (who did a couple of the catchiest damn Kris Kross remixes!) or one of the Marley offspring. Turns out my friend was right – this is a comeback hit from "Mr. Boombastic" himself, with chorus vocals provided by an unidentified R+B crooner. He (i.e. the crooner) shows up at Shaggy's mansion one day, bringing his problem to the reggae artist as if he (i.e. Shaggy) were the Godfather. It seems the crooner's girlfriend caught him cheating on her with the next-door neighbor – on the bedroom floor, in the shower, on the kitchen counter, and "she even caught me on camera." Shaggy's solution? Just tell her, "It wasn't me." And, you know, it just might work… if your girl is a drool-mouthed retard... The video for "It Wasn't Me" is a strange affair, taking place partly in Shaggy's mansion, where the singer is clad in a purple smoking jacket, and outdoors, where the jealous girlfriend and a few of her homegirls are tracking the soon-to-be cuckolded boyfriend with an 18-wheeler. I shouldn't like this – we knew we shouldn't like it way back in the car on the way to Kennett – but it has an odd, non-sequitur charm, the song and video both. –AH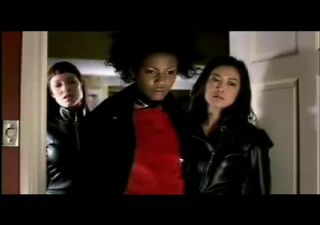 Sting – My Funny Friend and Me
(*½) Sting is sure fucking arbitrary about the movies he picks to do music for. For every inspired, almost painfully good lounge song for a movie like Leaving Las Vegas, he'll milk the cash cow and team up with Rod Stewart and Bryan Adams to put out filth like "All For One" (for The Three Musketeers soundtrack). Or, say, a nondescript VH1 ballad for the quite mediocre-looking Emporer's New Groove, Disney's holiday David Spade/Chris Farley animation romp with John Goodman in the Farley role. (The cash cow better have been spewing out some serious Vitamin D-enriched milk for all involved, is all I'm going to say.) The non-video for "My Funny Friend and Me" combines animated clips with "documentary" footage of Sting, headphones smothering his ears, singing his heart out in the studio while engineers get the levels right, a pianist labors and eventually, with the singer's help, the emporer experiences an eight-hour, tantric orgasm. That's what I call getting your groove back. If only Sting could. –AH
Uncle Kracker – Follow Me
(*½) I first encountered Uncle Kracker in June, just after Shanghai Noon came out. He was the dude who recorded that song whose instrumental track sounded just like Kid Rock's "Cowboy," and the video had Rock himself offering his endorsement of our collective, lily-white Uncle. Well, this time, Uncle Kracker is being postured by his record company's A+R staff as a VH1-friendly creation and, to wit, we have the presence of Sugar Ray's Mark McGrath as the smiling, head-shaking mechanic who is here to offer his endorsement of our collective, trailer-living Uncle. The video? Well, mostly, it shows Kracker riding around town in his pickup truck, while rented models fantasize about him assuming the roles of (among others) Elvis, Liberace and the Backstreet Boys. But the role he really seems to want here? That of Everlast, our precious black Jesus. Whatever, man, you can have it. Eat at Whitey's all day, all night. –AH
Wu-Tang Clan – Gravel Pit
(***½) The set-up for "Gravel Pit" is identical to that of The Wu's last video, "Tha Jump Off." Everyone's in an elevator, headed for a time warp, and someone expresses surprise – "2,000 B.C.?!" Cut to a shot of a T-Rex, a species which was as decidedly defunct as the Ol' Dirty Bastard's country club membership at that point in time. The title card quickly amends itself – this video is set in 2,000,000 B.C., and it comes to us from a rap act that learned less of its history from school than reruns of "The Flintstones" on TBS. And, you know what? "Gravel Pit" is a fucking cool video, built around a simple-but-funky (you can thank Britney Spears for that terminology), Egyptian-sounding keyboard line and featuring an elaborate, stone-based outdoor set. There's a poker game with stone cards, gangstas brandishing cartoonish clubs, kung-fu fighting and the intermittent dinosaur attack. All the while, some prehistoric hotties are inviting RZA, GZA and any other person who can add a letter of the alphabet to the suffix -ZA to "check out my gravel pit." Sounds like a challenge. Look for the Fruity Pebbles tie-in, coming to a TV near you and featuring the Fred Flintstone tag line, "Ghostface Killah, my Pebbles!" --AH

Leon's Ghetto-Ass
Video of the Week
Cash Money Millionaires – Project Chick
(*½) Before I do my review, let me say this – Cash Money represents everything that is wrong with hip-hop today. They are materialistic, misogynistic, and their rhymes are trite at best. But their stuff is so motherfucking catchy! This song, from the Baller-Blockin soundtrack (which already qualifies as the worst movie of the year, BTW), has a cartoonish beat and a catchy sing-along chorus. ("Give me a project bitch / Give me a hoodrat chick / One that don't give a fuck / An say she took that dick.")Yes, they do edit that when they play it for the radio. But anyway, the video is just as horrible, with Juvenile, Lil' Wayne, Mannie Fresh and Baby all hamming it up for the camera (similar to "Tongue Ring" by Three 6 Mafia), with women in colorful bikinis dancing atop cars in da projects of New Orleans. We also have a shot of Baby at the dentist, showing all his platinum (that's right, I said platinum, not gold) teeth with words inscribed in them. Ugh! And you can be sure they are bumping this bullshit to the death here in Mis'sipi. –Leon Bracey

Classic Videos
L.L Cool J f/Boyz II Men – Hey Lover (1995)
(***) For collaborative help on the first single from Mr. Smith, L.L. called upon Boyz II Men – because he knew there was no way he could be this cheesy on his own. This started a still-honored tradition in the Cool J camp, the midtempo dance-rap whose object is to lay a standoffish chick. In this case, it's a bizzy-bitch spotted from afar by Cool J who is dating another man. But, surprise surprise, the man in question simply does not measure up. He is a busta, and L.L. must regulate in this Hype Williams joint.* The video for "Hey Lover" pretty much follows the plot of the song – L.L. is cruising in his ride when he spots the girl of his dreams with her inept man, and for the rest of the song L.L. gazes from the background as the Boyz punctuate his every rhyming declaration with an emotive, "Hiii-uh-hi-oh-hi-ee-I-hiiii," "Uh-WHOO-OO-hoo-OO-oooh," or other such "Soul Train" declaratives. Oh, but I haven't yet gotten into the visual swerve of this video – it's a pastel-looking clip that brings the song's lyrics to light without much inspiration but is still quite pleasurable to watch. By the end, you'll be Uh-WHOO-OO-hoo-OO-oooh-ing yourdamnself. --AH
* = This sentence fulfills a bet I have with a colleague that I can't use three outdated hip-hop slang words in the same sentence. Fork over my skrilla, muhfuh!
Weird Al Yankovic – Money For Nothing (Beverly Hillbillies) (1989)
(***) Come on, I know you've seen this video before – it's the best three-and-a-half minutes of UHF, a clip that visually copies the groundbreaking Dire Straits, "Money For Nothing" clip while lyrically integrating the "Beverly Hillbillies" theme song. The thought of combining these two foreign elements never would have occurred to any human being other than Weird Amaru Yankovic, and the juxtaposition is met with interesting results. The computer-animated electronics store character is replaced with a Jed Clampett clone, while Weird Al toys with the ever-moving camera. More than you'd expect, and less than you'd turn down. --AH