NOTE: I realize my reviews have become somewhat irregular again. Sometimes I post new shit every week, sometimes every ten days, and sometimes I just decide to take a week off. But, I promise you, last week was a New York City-marathon ordeal for me – not only did it seem like I was working constantly (and you try waiting tables at a mid-priced Italian restaurant the night of Valentine's Day), but I actually took the plunge and got myself a membership at the Bally's Total Fitness center up the street. I've gone almost every day since, for one to three hours – some days not working out so much as screwing around in the pool area and staring at the well-stuffed leotards of some of the fitness-nut chicks – and my calves are fucking killing me, thanks to my first of three complimentary sessions with a gung ho personal trainer who's a dead ringer for The Rock. So Friday flew right by, and I didn't get a chance to even sit down and watch a music video, much less review a dozen of them. Looks like I'll be posting on Mondays again for a while… Anyway, stay tuned for my Grammy report on musicfanatic.com later this week.

yours truly.
A.

Aerosmith – Jaded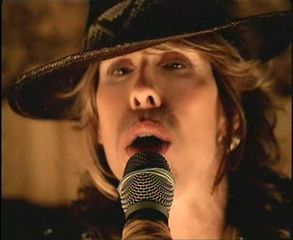 (***) I didn't miss Aerosmith at all during their post-Armaggedon absence. After all, can you think of any more pathetic batch of singles than the stuff from 1997's Nine Lives? And can you not imagine a band has anywhere to go but down after recording a derivative, godawful Diane Warren ballad like they're fucking Chicago or something? But here they are with "Jaded," which is a hellacatchy jangle-rock track that borrows from the Goo Goo Dolls/Bon Jovi comeback school of ultra-polished, uptempo singles. "Jaded" is a good effort, and I doubt I'll get sick of it for a while. (Then again, I said that about Lenny Kravitz's version of "American Woman," and that one's still with us on a too-regular basis.) The video, from director Francis Lawrence, is an ornate, rich-toned affair set in an elegant, centuries-old type of building. Steven Tyler, who's been looking more like an aging Gloria Swanson (they both have that sour sort of Lips-Manlis-from-Dick-Tracy face) his past few videos, here is airbrushed to perfection and sporting a chestnut brown dye job whose exact shade no doubt came highly recommended from Tyler's good friend Mick Jagger. And, yes, people – the video for "Jaded" follows the Alicia Silverstone principle of making these rock stars in their fifties take a back seat to a generations-younger female protagonist who is unquestionably hot. That's crucial to the male viewer's getting through an Aerosmith video, you understand. –Andrew Hicks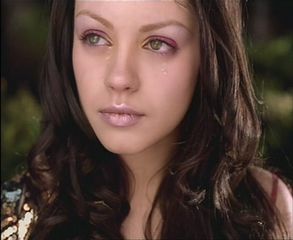 Ja Rule f/Lil' Mo and Vita – Put It On Me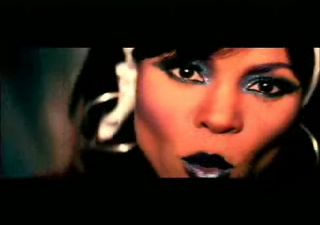 (**) I still view Ja Rule as the kind of hip-hop star I can only tolerate in guest-star verses on other people's records, particularly if they're better produced. The thing with Ja is, even though he's not particularly literate or engaging and doesn't have a particularly strong voice or flow, he'd be easier to swallow if his songs just had strong beats and hooks. The change in record label and production quality has done wonders for Mystikal, and it's even made Jay-Z tolerable to me on one occasion (thanks to the Neptunes, whose shit admittedly sounds strikingly similar from one hit to the next). The best "Put It On Me" can offer, though, is a half-assed back and forth chorus between Ja and… Vita, I'm guessing? Or is it Lil' Mo? Its video, directed by Ja and Hype Williams (though I can guess which one did most of the work), has Ja getting arrested and spending time locked up, his orange jumpsuit flaring and surprisingly delicate mind wishing for the company of his girlfriend. The outside-world girlfriend, Lil' Mo (or is it Vita?), gets to rap out a decent verse, and I'll admit "Put It On Me" does tend to grow on you the longer you let it play uninterrupted. So I'll give this one two stars because, not only is the general artistry good, but there's a hilarious shot of Ja Rule, holding a prison phone while he's surrounded by fierce-looking inmates, and Ja scream-shouts in that fucked-up voice of his, "Where would I be without you?" and really emotes into the phone. Like, with his whole body. –AH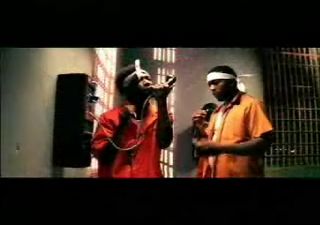 Limp Bizkit – My Way
(**) In the intro to this Fred Durst auteur vanity piece (or something like that), the backward-ballcap bastard comes out and admits there's no concept to this video, that they're just going to shoot it and see what happens. As it turns out, Durst takes an Eminem-type approach, filming himself lip synching both as Fred Durst and about ten different characters, one of which employs a Flintstones-like caveman costume. (Hey, think about it, his name is Fred…) The "My Way" video itself is pretty easy to watch, but the song has that amateurish, over-produced (read: watered down) quality innate to most Bizkit songs. I'm amused, though, at the chorus' declaration that it's "my way or the highway." A few weeks ago, the owner of the restaurant I day-job in put up a handwritten notice that all unauthorized consumption of food would hereby cease. ("That mouthful of salad, that piece of roast beef, that squirt of Grenadine to cherry-ize your Cokes – all that costs money.") At the bottom, in ominous, multi-colored block letters, the notice concluded: "Remember – it's my way or the highway!" So, naturally, that phrase has been a workplace punchline ever since. Anyway, when it comes down to it, "My Way" is one of the stronger Limp Bizkit singles. I can actually put up with it, and that hasn't happened since "N 2 Gether Now." –AH
The Offspring – Want You Bad
(**½) In the same vein, this Offspring track is surprisingly listenable. Imagine, an Offspring single that sounds like a real song and not a goddamn three-minute novelty tune you can't possibly force yourself to listen to more than five times. (Okay, so "The Kids Aren't Alright" was a fairly straightforward number, but I refuse to count it because it sucked so hard.) "Want You Bad," though nondescript and uninspiring, at least has the distinction of being the Offspring's least annoying single in three years. The video, as always, is goofy and unrealistic, and it exploits the high-school world of TRL, crashes a high-rise office party and later features a full-on soap bubble rave. Oh, and there are intermittent exploding soda cans that contain some kind of white powder or non-dairy, processed dessert topping. And if it's titillation you want, Offspring also has you covered – director Spencer Sutter cuts to some red-hot, barely legal model kissing all over this guy every fifteen seconds or so. It's "complicated, X-rated…" –AH
Rod Stewart – I Can't Deny It
(*½) I think I saw the funniest Conan O'Brien in history last Thursday night. The monologue was strong, the banter with Chris Rock was consistently entertaining, and the segment with Triumph The Insult Comic Dog at the Westminster show was downright hilarious. But most of the comic energy on that magical night of Conan can be traced back to Rod Stewart, the creepy, menopausal Brit whose career has lasted decades too long and who still seems to wear more rouge than my grandma on Sunday morning. Rod had been booked on the show, presumably to sing this new VH1 smash, and his people later called and canceled, with no real explanation and only 24 hours notice. So the gloves came off, and Conan tossed off some great one-liners at Rod's expense over the course of that hour. I don't know, for me, there's nothing more satisfying than watching someone rip on Rod Stewart, and Chris Rock's rendition of "Da Ya Think I'm Sexy" was icing on the cake. Anyway, that's my space-filler anecdote for this review – makes it look at first glance like a healthy chunk of writing with plenty of substance, but it really has very little to say about the actual video for "I Can't Deny It." I don't think I need to go into the specifics here, though. You get exactly what you'd expect out of this neo-Stewart video, plenty of shots of Rod and his new brown, shoe-polished head roaming the cars on an ultra-stylish train. He's bursting into the dining car, asking all these people in the middle of their meals if they can feel the rhythm of his heart beating like a drum and shit. As little as I rely on train travel, the very notion of Rod Stewart harassing me from here to Chicago may deter me from ever riding an Amtrak again. BAD ONE-LINER YOU'LL HAVE TO IMAGINE ME SAYING IN MY BEST BEAVIS VOICE: Is this, like, a… downtown train? –AH
Trick Daddy f/The SNS Express – Take It 2 Da House
(**½) It may not seem like it, but "Take It 2 Da House" is an epic party video, and it's also a better high school clip than anything the Backstreet Boys or Christina could aspire to star in. While the school band plays a brassy rendition of K.C. & The Sunshine Band's "Boogie Shoes," the honky coach gives the basketball team a pep talk. And the game begins, with footage washed out in gold tint like a Master P video and ample shots of the school cheerleaders. There's even a disconnected sequence toward the middle in which the Slip N' Slide Express, the girl act that constitutes the video's cheerleader population, takes over the song with a sexy, well-timed verse. This song itself is built around the aforementioned K.C. groove (how did I know there was a copy of the Saturday Night Fever soundtrack somewhere in Trick Daddy's collection?) and is entertaining the whole way through, in that take-it-or-leave-it novelty song sense. It certainly beats out the TRL set in showing us shit that actually looks fun, but it's a total guilty pleasure, so I have to dock it a half-star. –AH

GAY VIDEO OF THE WEEK
Gloria Gaynor – I Will Survive (1979)
(*) This should be the ultimate gay video of all time, but it's really a rather lackluster effort. Come on, we all know this song – I mean, by heart – and we've probably all even seen a drag queen or two lip synch along to it. (Well, maybe you don't hang around the same bars I do… but damn it, sometimes life can actually be perked up a bit by watching a drag queen named Vesta Bule perform her Britney Spears megamix.) Anyway, at first Gloria Gaynor was afraid, she was petrified, and she conveys all that through her stellar lip synching, a visceral process which involves singing into a big silver microphone and swaying in place while disco lights go off behind her and her image is occasionally patterned off in a diagonal row, "Bohemian Rhapsody"-style. Meanwhile, a stunt girl on roller skates dances around, the screen splits into primitive-looking quadrants, and Gloria finally realizes she should have changed that stupid lock and made the director leave his key. –AH


CLASSIC VIDEOS

Cyndi Lauper – She Bop (1985)
(***) This is the direction Cyndi Lauper should have gone in with her career – quirky, eclectic, danceable shit like this and not those prefab pop songs her producers probably forced on her. "She Bop" is the only Lauper song I love unabashedly, a coy ode to masturbation ("They say I'd better get a chaperone / Because I can't stop messing with the danger zone") with an irresistable synth bass line and a funny, confusing video to match. It beats the hell out of "Girls Just Wanna Have Fun," "Time After Time," "True Colors," and any other (s)hit you can think of. (Though, if you're like me, you probably can't think of any.) The video is set around an old-time burger joint whose interior looks like something out of a Tim Burton movie and whose exterior is crawling with zombie-walking clones. And, as a waitress walks out to Cyndi's car, tray in hand, she comes across the singer's steamed-up windows. And, yeah, she's in there all by herself, reading the latest issue of Beefcake. Cyndi gets out of the car, flirts with some biker customers and plays a psychoanalytically charged game of Masterbingo in some kind of dream universe. There's a cool cartoon interlude, a scene with Cyndi being brought to the police station by a pair of overzealous bastards and, of course, the Marilyn Monroe/Madonna/David Lee Roth parody ending with dancing, canes and a white staircase. I've had plenty of friends who just couldn't understand why I wouldn't let them turn the channel when this godforsaken video came on, but I always defer to the words of "the immortal Francois de la Brioskee," who is quoted at the end of this video: "Everybody bops." QUESTION: Why has no rapper stolen this groove yet? --AH
Sublime – Badfish (1992)
(***½) Sublime's 40 Oz. to Freedom is one of those albums I wonder how I ever did without. For three years, I operated under the assumption that the album was just a bunch of cheaply produced four-track demos and not at all worth owning. Then my brother nabbed the irresistible singles "Date Rape" and "Smoke Two Joints" from Napster, and I came across a used copy of 40 Oz. one afternoon. Ah, Sublime… "Badfish" is one of my favorites, and it turns up on the greatest hits. The video is, yeah, bargain-basement, but it's one of the few Sublime efforts you'll see with lead singer Bradley Nowell alive and well. That's cause enough to watch it and wonder, for the millionth fucking time, just how good Sublime would be today if not for that crucial heroin overdose. "Badfish" takes place mostly on the beach, with a collectively shirtless Brad & Co. playing for a makeshift audience of beach bums and bikini-clad chicks. The camera tints and movements and the editing keeps things passably artistic, but really, the appeal of the "Badfish" video is the feeling that you're just along for the ride, watching the band hang out and play some music. Some timeless music. –AH


P.S. One final note here – basic cable has just been blessed with a whole new batch of Miss Cleo commercials. I continue to be fascinated and amused by this woman, and I've cultivated a makeshift Cleo impression for parties and such that seems to go over rather well. ("Just call 1-900-BIG-FOCKING-SCAM and see the truth of the tarot cards.") I'm noticing that, as the commercials go on, Miss Cleo is starting to have even more power over her callers. I mean, the copy writers for this shit have really adopted the poker-face bluff of casting Miss Cleo as the soothsayer you can't lie to, the all-knowing, all-powerful being who not only sees the intricate details of your love life and the gossip you yourself cannot detect (like whether Ray-Ray is really your babydaddy), but she has the advice component to go along with it (i.e. she takes the hard line and tells you to dump your loser boyfriend, makes your important decisions for you) – and the no-nonsense friend component. Cleo is God, Freud and Oprah rolled into one, with a phony Jamaican-Irish-soulsista dialect in a tidy bow, and her services only cost $3.99 a minute. Like I said a few weeks ago, I'd really be curious to talk to this woman/fictional character if I thought the number would actually lead to Cleo and not one of her "swarthy minions," although I would also surely be entertained if it turned out that the company behind this charming scam operation had trained all of their operators, female and male alike, to imitate Cleo's distinctive if wavering Iro-Jamaicafrican accent. Anyway, fresh Cleo commercials… you gotta love 'em.
ta ta.
A.