VIDEO OF THE WEEK
Destiny's Child – Bootylicious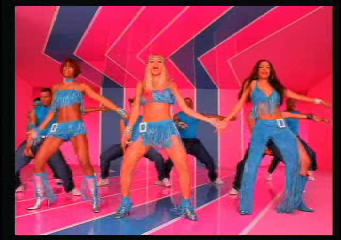 (***) God, music videos have become so much more Maxim-ized in the past couple years. Everything looks like a photo spread some unlucky 14-year-old kid has to jerk off to by default because no genuine pornographic material is available. That's not to say I'm complaining – MTV only shows videos late at night these days, and when it gets to be, oh, 4:33 in the morning, your brain's so fried and frayed from the day and night passed that sometimes all you can even handle is brainless, photo-shoot girl-posing.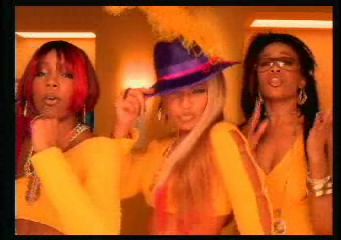 That's when Destiny's Child steps up to bat, the three of them each claiming her body is "too bootylicious for ya, babe." And, from the wardrobe Beyonce and Co. are sporting, I can't much argue – these girls have TLC beat by a mile in the body and booty departments. But, lest you think I leave a video like this on purely for the skin, I should mention that "Bootylicious" has the same you-go-girl kitsch value that made "Bills, Bills, Bills" such an easy R+B tune to get hooked on. The chorus is a crack-up off the bat, but so is the Michael Jackson vocal posturing the girls keep up throughout the song, from the hee-hee's to the OOOOOOOO-hooooohh's.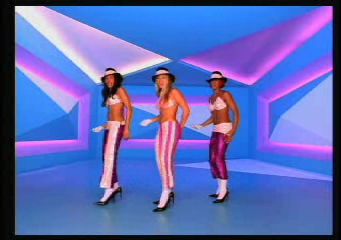 Fashion photographer Matthew Rolston, who is responsible for a couple of the better Madonna and (yes) TLC videos, calls the shots in the "Bootylicious" video, and his inspiration is to just go ahead and make the visual representation as obnoxious as the song itself, so it all pretty much looks like Christina's "Come on Over" video with more flash and flesh. But it's well worth watching.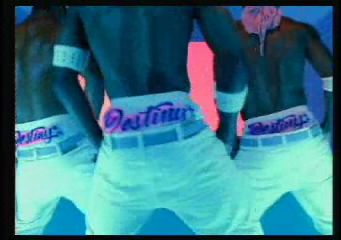 Anyway, I'm waiting for the "Bootylicious" product tie-ins to start pouring in. Imagine making yourself a sandwich out of peanut butter and I Don't Think You're Ready For This-brand Jelly. –Andrew Hicks

OTHER NEW SHIT
Blues Traveler – Get Inside My Head
(**) I have this image of John Popper, the metric-ton mammoth front man for Blues Traveler, being stuck in the end of the grunge era. Bless his heart, when his band rocketed to two-hit novelty fame in 1995, Popper had just slapped down his thirty bucks at the Casual Male Big & Tall (hey, I admit, I've shopped there, too – it's where I get my Fubu) for the best damn red-and-black checkered flannel shirt they had in a 6X. Later, of course, Popper would top it off with a beige fishing vest and stand still in VH1 time with both wardrobe flares.
It's been six years since Blues Traveler disappeared into the woodwork, and now John Popper's got an identity crisis. He spends most of "Get Inside My Head" dressing up and dressing down – sometimes he looks like a pauper, other times he looks like a pimp. All the while, though, this video has him set up as the proprietor of what I can only assume is a parody of the Playboy Mansion. Lord knows acres of gorgeous girls wouldn't be hanging around Popper's actual pad in various states of undress. (I give credit to the Cult of Celebrity and all, but not that much.)
Popper also gets up and sings with the band, who play a set or two in the drawing room every day promptly at 4:30, sandwiched between Wesson Oil Orgy and Supper In Vomitorium on Popper's itinerary. And, you know what? I make all these fat jokes about John, but I think he's actually lost a bunch of weight since the "Runaround" and "Hook" heyday. Maybe God made some weird deal with Popper that, if he lost 150 pounds, he'd turn him into the biggest American sex stud since Hugh Hefner, and Popper actually went out and tried the Subway diet or whatever and lost an entire person, came back to God and said, "I'm down to a lithe 425 now, how about honoring that sex-stud thing?" after which God scratched his head, thought, Fuck, I didn't expect Popper to actually give up the biscuits and gravy, I guess his harmonica-playing ass stumped even me, God, and granted the big man his wish. Yeah, maybe that happened. –AH
City High – What Would You Do
(**½) In some warehouse somewhere, there lie boxes upon boxes of little bracelets with the letters "WWYD" on them, just in case this song becomes a smash hit. That's a big "if," but City High does have its own kind of intriguing novelty here.
"What Would You Do" is an R+B morality tale from a hip-hop pop act whose composition somewhat resembles that of Lucy Pearl. Two guys, one girl, various backgrounds. They trade off mic time, debating the merits of a mutual acquaintance named Lonnie who moonlights as a private dancer (yes, a dancer for money). She's a single mom and she's unemployed, you see, and when the City High girl defends her, the guys rightfully inquire as to why Lonnie couldn't just get a regular job.
One of these rebuttals comes to the backing track of Dr. Dre's "The Next Episode," which materializes out of nowhere and segues back into the original music of the song so seamlessly that it makes you think, What would you do if you were Dre and you heard this? Would you slap them with a multimillion-dollar lawsuit or just let everything slide if City High agrees to grant you one hour undisturbed with the girl singer? You have to enjoy music that makes you think. –AH
Craig David – Fill Me In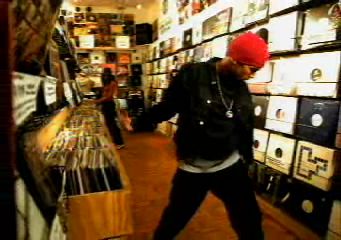 (**) Thank God the next big trend in R+B turned out to be music based on actual songwriting and melody. The new-school soulsters like India.Arie, Musiq Soulchild and Jill Scott leave the huckster production and carbon-copy drum programs to the TRL stars and instead channel talents of the past and offer their own spin. Somewhere in the middle of this is Craig David, whose nicely executed debut single, "Fill Me In," seems to have been written around an acoustic guitar riff but whose production is strictly a combination of Timbaland and techno-lite. And, for some reason, it totally works for me.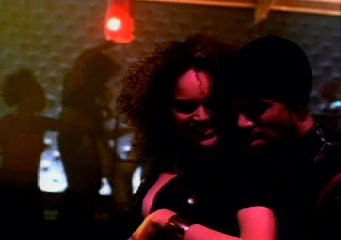 If only the video, from director Darren Grant, weren't so unimaginative. It buries David behind hip-hop street wear, penciled-in Artist Formerly Known As Prince facial hair and the stacks at a record store. The star himself dances nimbly down the aisles as he searches for… fuck, I don't know, the collected works of Gerald Levert? He entertains the other customers, tries to impress some random honey and, during brief interludes, makes his way through a well-lit party. Oh, and he's driving Montel Jordan's car in between all this.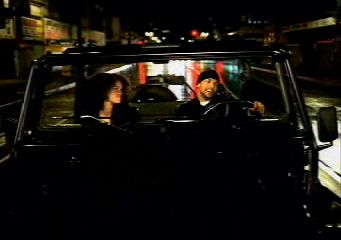 Craig had better pray Montel doesn't find out who stole his wide-ass black hummer. Can you picture a flustered newscaster reporting the savage beating of emerging R+B star Craig David by an unidentified assailant? "As for eye witnesses, all anyone could say of the suspect was six-eight he stood, and the people thought the music that he made was good." –AH
Dido – Here With Me (original B+W version)
(**½) When I reviewed the re-release video for Dido's "Here With Me," a clip whose airplay trickled down from VH1 to MTV2 and finally MTV itself, I couldn't find a single reason why the record company didn't just stick with the original video from 1999. Its soft, sepia tones and downbeat approach suit the song so much more effectively than does the second "Here With Me," which is personality-free and awash in more loud-ass colors than the entire Benneton family.
I wanted to review the original brown-and-white Dido video when its wack predecessor came along, but I didn't think I had it on tape. Leave it to a still-unpacked box under my bed to make all the difference, though. I found an old M2 tape, and now I've got all the old-school, pre-Eminem-accessory Dido I need.
The only problem is, the video for "Here With Me" (from the reliable but oh-so-sold-out directorial team Big TV!) isn't as good as I remembered it being. Oh, it kicks the second video's ass, but it's still pretty nondescript. Dido spends the song's four minutes wandering her loft apartment, peeking through the shades and eventually crawling along the stone balcony terrace. All the while, her boyfriend slumbers under silk sheets, oblivious to the free lip-synch show he's getting from his soon-to-be-famous ladyfriend. –AH
Linkin Park – Crawling
(**) This song had me until one word before the chorus, when the lead singer started shout-shrieking about how insecure he is. Yes, when you've got a craving for corporate wigger punk-rap utterly lacking in self esteem, only Linkin Park can fit the bill. Because everything you say to them brings them one step closer to the edge and they're about to break, and shit. I think the last thing I need from my bands is a phrase like "caring nurturer" screamed rebelliously at top volume. But all this isn't saying a damn thing about the video, and as we all know, the video is what I'm here to criticize.
"Crawling," which comes to us courtesy of The Brothers Strause (you can rest assured your what the fuck? reaction upon reading that was at least as strong as mine), takes place in some kind of blue-lined, jagged-boxed universe, where a very hot brunette model roams and the youthful lead singer looks like a cross between Justin Timberlake and the guy from Static X (who himself resembles one Seth Green). It lends everything that angsty-yet-peppy quality.
You can almost envision a yellow happy face ball bouncing above the printed lyrics: "Crawling in my skin / These wounds, they will not heal." Sing it with me, kids... –AH
N.E.R.D f/Lee Harvey and Vida – Ladpance
(***) N.E.R.D. is a side project for The Producers Normally Known As The Neptunes, who are responsible for so many guilty pleasures (songs like "Shake Ya Ass," "I Just Wanna Love You," "Caught Out Here" and "Danger" made even guiltier by the fact that they sound so much alike) that every frat boy in the country probably wants to buy then a drink.
I don't want to heap too much praise on N.E.R.D. on the basis of one single, because these guys – who have their own Freedom Williams in the form of a rapper who performs "in the name of white trash" – as a production-end hip-hop party machine could just as easily become the next C+C Music Factory as the next Digital Underground. But their track record does already speak for itself, and "Ladpance" (a thinly veiled anagram of "lapdance") is, I'd like to think, a strong contender for what we'll all remember as the party song of 2001's Summer of WOOOOHHH!!!
And the video is, to borrow a term from the other main summer song contender, full of bootylicious babes, presumably the same babes who administer the free lapdances promised in the song's chorus. The video, which is a lot edgier and of-the-moment than you usually expect from a pop director like Diane Martel, starts with the rappers riding their bikes down the street and proceeds to the real locale, the strip club. (Does this surprise anyone?) There are impossibly beautiful and impeccably (un)dressed women by the bushel, which makes this a summer bonus for straight guys and gay women, but the song's hook and flow both demand it be taken as more than just another brainless hip-hop video crammed full of ass shaking. If this tune gets boosted past the limiting world of MTV2 and the MTV Buzz Bin, it could be huge. –AH
Eric Sermon f/Marvin Gaye – Music
(***) The best thing to come from the abominable* What's the Worst That Could Happen? is this soundtrack amalgam from our Remember Him? artist of the week, Eric Sermon. He's paired with our Sorry Your Dad Shot You artist of the week, the late Marvin Gaye, in one of those sample-happy songs that preserves enough of the vocals from its source material to fall into that Natalie Cole territory of dressed-up, posthumous "duets." These kinds of pairings usually suck, like when Kenny G. saw fit to take a big bird crap on Louis Armstrong's grave when he added elevator sax to "What a Wonderful World," but sometimes they work, like when Lauryn Hill contributed soulful vocals and a much-needed groove to Marley's Exodus tune "Turn Your Lights Down Low." And like "Music."
Sermon lays down his rhymes in "Music" over a repeated – and damn catchy – sample from Gaye and a lazy, funky backing track. Even though he's relegated to "featuring" status in the credit billing, Marvin Gaye's voice is all over "Music," offering reactions and emotive ad libbing. By the end, they're letting old Marvin riff on the song himself. It works, people. It really works.
The video, which isn't quite as strong as the song itself, offers a lot of standard hip-hop flash, from the party people and scantily clad girls to lush colors and stock footage of Marvin getting down. Sermon spends most of the video either riding around town or showing up at clubs and parties. All the while, clips from What's the Worst… play. It's hard to say which stock footage pops up more, the boogeying '70s Marvin Gaye or the bumbling '00s movie stars. I wouldn't consider myself informed enough to guess. –AH
* = …so far as I can tell based on the trailer and personal instinct, anyway. I'm not plunking down $5.50 on my expired student ID to find out.


GAY VIDEO OF THE WEEK

Crowded House – Something So Strong (1987)
(*) One of my favorite songs of the entire '80s is Crowded House's "Don't Dream It's Over," and the video for that is certainly tolerable, but you really haven't seen '80s-gay until you've seen the video for "Something So Strong." And it hurts because, damn, I love the song itself, and I think even the most obtuse of video directors would realize it would be a bad idea to set the clip entirely in a barn full of laundry hanging on clotheslines.
The band gets so bored so quick that all they can do is mug to the camera, all toothy grins and paper airplanes and singing the background vocals into each other's faces and shit. (There are literally a half-dozen times where two or more of the Crowded House guys are close enough to french kiss each other. And, I mean, I could understand it if they were gathering around a microphone to sing the vocals, but there are no mics in sight. I think they genuinely just like being that close to each other's faces.) As if all this shit isn't lame enough, you should see the last twenty seconds, where one guy gets a bucket of water over his head and the drummer is towed away by a tractor, drum kit and all. –AH

CLASSIC VIDEOS
Billy Idol – White Wedding (1984)
(***) If only Billy Idol had another "nice day to start again" and repackage his sneer-and-peroxide image… and, no, I don't think a VH1 Storytellers episode counts as "starting again" in the fickle, fickle world of rock stardom.
Okay, I write mean and all, but I mean no harm. I appreciate the early-MTV spectacle that is "White Wedding," from the jarring, rose-tinted sequence that has the bride pulling up in her limo to Idol's introduction, where Idol and the camera are both on a slowly rotating platform and he slowly unwraps the blue-gray scarf his head is enshrouded in. All the while sneering and offering the camera his best You know you like albino punks look of come-hither lust. The video is dated in places, of course, but "White Wedding" works as such a fine time capsule of Reagan-era kitsch that it's hard for me to turn off even a second of it. And the video artistry itself? Not half bad. --AH
Alanis Morissette – Unsent
(***) I dismissed this video with a full zero-star rating when I originally came across it in early 1999, because I thought it too embarrassingly pretentious and puerile for words. That's still my initial reaction when I happen upon it now, but I have to admit, "Unsent" is one of those Alanis songs that makes me want to smack her yet captivates me way too much to turn it off.
Certain songs, like "Thank U" and "You Learn," are addictive to me, if nothing else, just for their outlandish Alanisms, but "Unsent" takes the cake for those. Poetry Bitch structures each verse as a mile-a-minute, stream of consciousness-type letter to an ex-boyfriend, most of whom – we learn via the dialogue subtitles at the bottom of the screen – were cruel as hell. The concept predates the movie version of High Fidelity, with Alanis' preferences embodied at different points in her life by different lovers, and each vignette makes you shake your head and say to yourself, That poor woman. What horrible luck with guys.
In one scene, she's feeling awkward and intrusive with Matthew, the artist who can't communicate in real life, and in the next (my personal favorite), she's inviting herself along for a weekend away her boyfriend is spending with the guys. Alanis' facial language creates, I hate to admit, a fully convincing performance. I guess silent acting is her thing.
"Unsent" is worth a look, if just because – between the rapid-fire delivery of her "singing" and the plentiful dialogue on the screen – the Alanisims truly fly for the full four minutes. I can't decide which quote is my favorite, "Whenever I think of the early '90s, your face comes up with a vengeance, like it was yesterday," or, "You've been nothing but open-hearted and emotionally available and supportive and nurturing and consummately there for me." Oh, and don't forget, "You were the best platform from which to jump beyond myself."
Fuck, leave it to Alanis (who also directed the video, believe it or not, and ends it brilliantly with a subtitle-free sequence in the front seat of a car) to remind you that the good ones always seem to get away, and the bad ones just waste your time from the damn beginning. –AH