VIDEO OF THE WEEK
Badly Drawn Boy – Spittin' in the Wind
(***) It's a team-up for the ages, Badly Drawn Boy and "Dynasty" bitch extraordinaire Joan Collins, who was out getting plastic surgery when Cher was still in diapers. Collins really hasn't been on TV much the last decade, but there's no better to place to make your comeback than the MTV Buzz Bin. Just you wait until Rip Taylor makes his token appearance in a Blink 182 video.
The video opens on Collins, a towel wrapped around her head, lip synching the song from the confines of a bubble bath. She looks old and disoriented and, what's that word? Oh yeah, stoned. Stoned as a motherfucker. Badly Drawn Boy is sitting on the edge of the tub, toiling away on the acoustic guitar, and he jumps to grab a robe for her when she climbs out of the tub. (You'd rush to cover that up, too.) Then they sit on the edge of her bed and he serenades Collins some more, though she seems a bit down in the dumps. Maybe she's thinking about how she didn't have to do music video appearances to pay her past-due electric bill back when "Dynasty" was still on the air.
Then – it's almost sad – she breaks down while sitting at her makeup table, and only the Badly Drawn Boy can console her. That and the tub of ice cream she eats afterward, after which she cracks a smile for the first time and rushes off to her wardrobe closet to get ready for a night out on the town. And, with BDB in a tux, they head down to the ball thrown in Collins' honor.
It's a disorienting little video, "Spittin' in the Wind," but it's just as wry as the song itself. And you wouldn't think these costars could pull it off. They do, though. This is one of the more fascinating efforts of the summer so far. –Andrew Hicks

OTHER NEW SHIT
Drowning Pool – Bodies
(***) This is a rare example of a growl rock tune that's catchy as hell, that's raw and impossibly polished at the same time. Something even Rob Sheffield from Rolling Stone could pull the new 'N Sync CD out of his stereo for. It's a hard thing for me to explain – because my inner mechanism was determined to resist "Bodies" when it came out – but the song is so sellout it works on every level. It even has a sing-along "one, two, three, four" bridge that ensures every drunk person at the concert will be screaming it back at the band at .3 decibels over the legal noise limit.
The video, deemed Buzzworthy by MTV, has what is probably the most fucked-up opening of any clip this year. It's a close-up of a haggard middle-aged man's face, lower lip trembling from insanity, as the lead singer leans up to his ear and whispers, over and over, "Let the bodies hit the (what, "floor"?)." It eventually sends the mental patient into shock when the bald singer screams the final line of the chorus. Baldy is dressed as a hospital orderly or doctor, and he continues circling the guy, singing into his crazy face until the guy starts lip synching along. A security guard stands by passively all the while.
The band is seen on the hospital's closed circuit TV in more of a standard music-video rock pose – you know, strobe lights, rapid-fire editing, looks of sneering disgust. "Bodies," though it has a few moments of over-serious pretension that may make you roll your eyes, is the kind of four-minute ride that gets crazier as it goes. –AH
Eve 6 – Here's to the Nights
(**) Three years ago, Eve 6 was a TRL band. Now they're a VH1 band. I don't know if they've officially been put on the Inside Track or what, but they've definitely made that climb up the basic-cable generation-gap ladder. "Here's to the Night" is positively tranquil, mid-tempo adult rock that will no doubt be playing until November on the Muzak when people get their hair cut at Great Clips.
The video is also unremarkable, aside from chronicling how old the lead singer is starting to look now. (I don't mean old in the conventional sense, because he's not even really approaching middle age, but when your air-time competition is Lil' Bow Wow or Aaron Fucking Carter and you're this guy, you're positively ancient.) It has people walking around a spacious house and its property with video cameras. When they're not taping each other, they're watching what they taped earlier. It's mainly a lot of drinking beer from blue Dixie cups and getting into love triangles and surrounding yourself with items ordered from catalogues.
Yet it's not all bad; it's just all bland. The aim of "Here's to the Nights," I guess, is to become one of those songs that always pops up on the bar jukebox because some soused dullard reads too much emotion into the cliché lyrics. The song will probably only end up on a Waffle House jukebox for an 82-year-old waitress named Barbara to groan through at 5 a.m. –AH
LFO – Every Other Time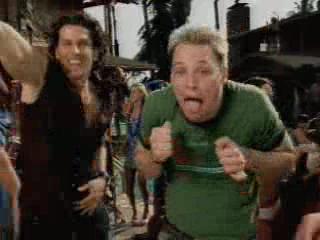 (*) You've got to be shitting me. I thought we were through with these guys, that their one-two punch of "Summer Girls" and "Girl on TV" in 1999 was all the TRL madness we'd have to endure from the Lyte Funky Ones. But no, they had to go and answer the question I posed back then, "Do all their songs have the word 'girl' in the title?" Guess not, though they do refer to the song's love interest as "homegirl" once or twice. You think they're trying to edge out Miss Cleo for the Forced Validity Award 2001 contest?
Well, needless to say, this video sucks. It's totally corporate and fake and I don't feel like describing it since it's already falling off the TRL countdown. If you want the baseball card stats, though, the debut date on "Total Request Live" was July 11. Its peak position was #6, and it spent a total of twelve days on the countdown. While on the countdown, it killed a total of 186,044,982 brain cells across the nation, most of them in brains age 12-18. Oh, and according to the TRL statistics, sixteen adult males have masturbated to this video since July 11. One of our ex-presidents is among them, though MTV has declined to reveal which one. I'm guessing Carter. –AH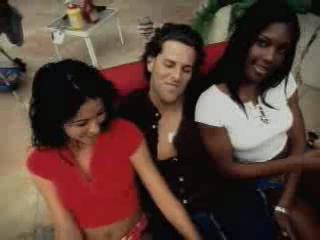 Little T and One Track Mike – Shaniqua
(**) "Shaniqua" is one of the summer's most enormous music video monstrosities, white-boy rap that's embarrassing to the nth degree, yet there's something undeniably amusing and, yes, fun about it. It's the kind of amateur, unforced party pop I used to listen to before Hot 97 changed its format to R+B, then hard rock and all-talk. The beat is part '70s funk and part early-'90s dance, and the raps are pure PG-rated wiggerliciousness.
The premise? Little T moves into an off-campus apartment and gets endless calls for one of the room's previous occupants, Shaniqua. Her number's up all over town for all reasons and all types of people, from the teenage kid with the obnoxious complexion to the desperate trucker, call at all hours of the day. Sucks for Little T, who's usually an inch away from getting it on with some anonymous hottie when the calls come.
The video complements the song pretty well, though you can't come close to taking either seriously and you end up feeling guilty just for leaving the damn thing on. I mean, I doubt One Track Mike could possibly look any more like Snow. –AH
Nelly f/Murphy Lee and Ali – Batter Up
(***) The city of St. Louis, energized by the fact that we have our first media superstar to claim since John Goodman, bends over backwards to give good press to Nelly. Little realizing that shit like "Batter Up" proves that our hometown rapper hasn't exactly made the sort of cultural contribution that would necessitate, say, giving the little bastard the key to the city. Which our mayor has done. ("Cornell Haynes, Jr., you have reveled in ghetto stereotypes and given interviews to Rolling Stone that suggest you are ill-informed. Please accept our gift of the Arch. It's yours. Paint it pink if you want.")
I make my jokes, but "Batter Up" is one of the more entertaining Nelly videos to date. Aside from merely hanging out in front of expensive cars and letting our Midwest chicks shake their asses, there's an actual plot this time. Sort of. Nelly and the St. Lunatics are a baseball team, and they're not exactly the most professional players in the world. At one point, they let a girl in a red bikini thong pinch hit, and her strategy is to booty flap in the pitcher's face so he'll throw the ball wild. It's something I suspect wasn't covered in George F. Will's book on baseball.
There's more, of course – a pair of commentators wearing unconvincing whiteface and a scorekeeper who's devouring so many ribs in the outfield that he uses the sauce on his sloppy hands to record the scores. And there's Sherman Helmsley to represent for the Jefferson clan, since "Batter Up" interpolates the hell out of that particular Nick at Nite show's theme song. Sherman seems to enjoy himself while clowning with Nelly in front of a row of lockers, but you can tell from the look on his face that he's trying to calculate which career move was more embarrassing. This or the Denny's commercials. –AH
P. Diddy and the Bad Boy Family f/P. Diddy, Black Rob and Mark Curry – Bad Boy For Life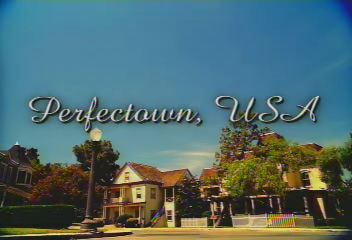 (**½) Puffy – er, P. Diddy – has, believe it or not, made two of his best videos in the last few months. Ignore the obnoxious artist credits above (only Señor Combs would ever turn in something from "P. Diddy… featuring… P. Diddy") and the unremarkable music itself and just absorb the celebrity-happy humor of the video.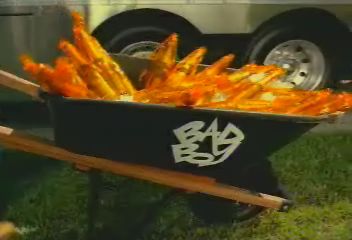 Our setting is a well-off white neighborhood ("Perfectown, USA") on a day when storm clouds literally roll over the neighborhood and the peace is infested by Puffy and the Bad Boy Family. Their tour bus is preceded and surrounded by Secret Service sedans (because, you know, we wouldn't want a national treasure like P. Diddy to fall victim to any type of assassination attempt or international espionage), then off the bus they stroll, bringing in enormous speakers and a Bad Boy-logoed wheelbarrow full of what looks like enormous hot wings.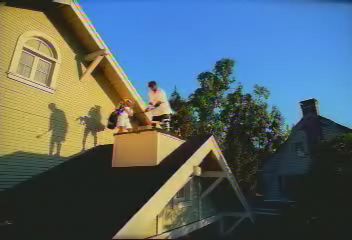 The rest of the video enforces and revels in slapstick archetypes, from the old white guy who learns how to get down (as the kids say) to the shots of Puff and a companion driving golf balls from the roof. The approach is none too subtle, but it suits the parade of famous motherfuckers who roll through. There are West Coast rappers (Snoop, Ice Cube, Xhibit), sports greats (Shaq, Mike Tyson) and even a hilarious cameo from Ben Stiller, the owner of a mansion whose peace was shattered by one of Diddy's golf balls.


The climax is just what you'd expect, a Hype Williams-loud block party that wins over the conservative neighbors. Then, the next morning, Diddy's out grabbing the morning paper as a now-adoring rich neighbor greets him. "I saw you shakin' dat ass last night," he tells her, and she says, straight and white as all hell, "Yes I was." Who knew Puffy had a valid sense of humor? I'm still groaning from the Mase Gumbel and Fuzzy Badfeet sketch at the beginning of "Mo Money, Mo Problems," but who knows? The man actually let Ben Stiller refer to him as "Papa Diddy Pop, dog" without having his entourage beat Stiller down. –AH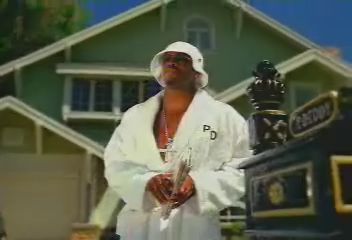 Smash Mouth – I'm a Believer
(**) Okay, now there's a proper video for the Smash Mouth version of "I'm a Believer," which I reviewed a few weeks ago in movie-clip form. There are still a few clips from Shrek in the new version, but there are a million other grating things to distract yourself with. It opens with the beefy-as-ever lead singer running into his dream woman, a slender blonde, at a "Fairy Tale Convention." (Characters in inanimate-object Fruit of the Loom fucking costumes wander around, but mainly the camera likes to focus on the standees for Shrek.)
The singer follows her down a few city blocks and eventually into a tent, where endless hotties frolic to the music and there are no men around to hit on them. He's clearly impressed by these surroundings, but then his dumb ass leaves this place of paradise to follow the dream girl, who doesn't look nearly so dreamy as she did two minutes ago. She gets on one boat, the singer and the band follow on a rented houseboat, and the sky opens upon them. (It's the only halfway creative visual sequence in the video.)
Then, at the end, he catches up to her, she turns around and he hands her the car keys she dropped when they first met. That's the reason he's been following her all this time, and she suddenly recognizes him as "Steve from Smash Mouth." You'd think this would be the ultimate aphrodesiac for Steve – after being called "the guy from Smash Mouth," "that merry fatass," etc., he meets someone who actually knows his name – but he turns her down once she starts hitting on him. Great plot twist there, if you want the whole world to think you're gay. –AH

GAY VIDEO OF THE WEEK
O-Town – All or Nothing
(zero) I'm gonna go with "nothing" on this one. I realize there's not much to aspire to creatively when you owe your career to the chance winning of what was basically a twice-canceled TV game show. Each member of O-Town, of course, was chosen to fill a visual demographic, from the brooding guy with the mini-dreads to the blond heartthrob ("Oh, and we have to pick one with a lazy eye, just like that goofy-looking kid from 'N Sync"), but none of them has an ounce of the TRL charisma of your average Backstreet Boy. And I say this thinking the Backstreet Boys have almost nil charisma on their own.
But damn, is this a mish-mash. Most of "All or Nothing" takes place on a concert stage, where the rampant lip synching helps distract from the fact that, uh, that's not a real band playing back there. Other sequences take place on the street, where the guys walk around and stuff and a rented model tosses her hair and bites her lower lip in sexual frustration. Yeah, it's hard to date all five members of a third-tier boy band simultaneously.
It's not merely the limp-n-lame nature of the video that singles "All or Nothing" out for Gay Video of the Week inclusion. The lyrics themselves earn that dubious honor. (When's the last time you heard a song whose chorus rhymes the word "all" with the word "all"?) With phrases like "When you reach the bottom, it's now or never," it's one cliché after the other, and the clichés literally trip over each other. When's all this going to end? –AH

LEON'S GHETTO VIDEO OF THE WEEK
Missy Elliott f/Ludacris and Trina – One Minute Man
(**) Geez, what is in the water in Hampton Roads*? First, you have Teddy Riley (a native New Yorker who resides in Virginia Beach), who introduced us to the New Jack Swing, helped produced Michael Jackson's Dangerous album and gave us such classics like "No Diggity" from Blackstreet, and "Rump Shaker" from Wreckx-N-Effect. Then you have the Neptunes, whose light but heavy Star-Trek-meets-hip-hop sounds smooth out the rough edges of New Orleans rapper Mystikal for his James Brown-esque ode to the posterior, "Shake Ya Ass," made Ludacris tolerable with "Southern Hospitality" and produced music for countless others, including 'N Sync (who I am beginning to tolerate a lot more), Jay-Z, et al.
And, of course, you have Missy Elliot and Timbaland, who in the last few years have managed to turn the world of hip-hop upside down with their groundbreaking sounds. They helped resuscitate Aaliyah's career, which almost lay in shambles after rumors surfaced that she and her mentor, R. Kelly, had had an intimate relationship. They have also produced songs for countless others and have others biting off of them in every way imaginable. Missy Elliot, after a couple of years of tired songs, came back with a vengeance with the irresistible bhangra beat of "Get Ur Freak On" (with a kick ass remix with Nelly Furtado, by the way), and now this song, with its tweaking synthesizers, and freaky video game beat.
All that being said, if only the video were a little more imaginative… Missy, who looks like she has lost a lot of weight in the last few years, contributes a few dance steps here and there and is actually a decent singer. Ludacris contributes a nasty ditty on here, rocking cribs with scantily clad women in them as he feels them up. We also have Trina in a bikini rapping her dissatisfactions with guys who get theirs before she gets hers. The video does have some weird film tricks, with said performers jerking around in awkward movements. But Missy could do better. –Leon Bracey
* = And if you've ever been to Hampton Roads, there's lots of it. This Southeastern Virginia metropolis, where the James river, Chesapeake Bay and Atlantic Ocean meet (hence the nautical term 'roads'). With a population of 1.5 million in the cities of Norfolk, Virginia beach, Chesapeake, Suffolk, Newport News, Hampton, Portsmouth, Williamsburg, and Poqoson, and James City, York, Matthews, Isle of Wright, and Gloucester Counties in Virginia, and Curritick County, North Carolina, this is the largest metropolitan area between Washington, D.C., and Atlanta, Ga. Home to Busch Gardens, the U.S. Navy Atlantic Fleet, one of the world's largest public beaches, the largest Filipino population on the East Coast and Planters Peanuts, it was recently named in a magazine as the most livable metro area in the South. As someone who has been there several times, I can attest to you that it is a damn nice place... now, how is that for nerdy information overload?
(***) Maybe it's the overall ignorance of geography in this addled head, but I actually like the "One Minute Man" video and figure I might as well put my two cents in (to add to Leon's 98 cents up there). I agree with him in terms of the song itself – who would have thought Missy could actually sing and do a decent job of it? – but I think the video itself has more than its share of visual cleverness. Even if, yeah, the imagery of Ludicris robbing a cradle or two from within his hotel room is beyond disturbing. I can overlook that, though, in favor of the dancing bellhop shit, the cavalcade of new Missy outfits and the jigsaw imagery of Trina's room. This is a living, breathing hip-hop acid trip. –AH

LEON'S SIDE RANT
Singer/actress Jennifer Lopez is in the midst of a P.R. disaster because she uses the word "nigga" in the remix of her song "I'm Real" with Ja Rule. (Is it just me or does the original version sound like a throwaway Janet Jackson song from her Control days?) As an African-American, I guess I must comment on it.
So fucking what?
We as African Americans have brought it on ourselves, due to the fact that we use the word so casually not just in hip-hop songs but in everyday conversation. My mom is always saying, "It's not blacks I have a problem living by, it's niggas I don't want to live by," basing this on the assumption that "nigga" means ignorant, lazy, shiftless, and violent. Heck, my 84-year-old grandmother, who was raised during the brunt of Jim Crow days in Mississippi uses the word.
Even though I do feel a little uneasy whenever I hear people of other races use the word in conversation (wiggers and white girls with black baby daddies included) and once had to get on Andrew about it, there's no use about getting bent out of shape about it. If we didn't want other people using the word, we shouldn't say it now, should we?
I guess since J-Lo was fucking Puff n' Stuff, P. Diddy, whatever he calls himself nowadays, she must feel she is an honorary nigga. The controversy has been met with general apathy, since the hip hop stations here in Jackson have been playing the song quite a bit (and as many of you know, there are still deep ramifications of racial polarization here, given Mississippi's less than stellar past regarding race relations) and TRL had it on the other day.
Again, who cares? Now put that shit in your goddamn crackpipe and smoke it. –LB