ANDREW HICKS:
MUSIC VIDEO CRITIC AT LARGE
MTV Top 100 of 1996 -- Reviews #90-81
90. Nas -- Street Dreams ***
In between the two "Sweet Dreams" videos on the countdown comes rapper Nas with "Street Dreams," his second good video of 1996. This video, the follow-up to "If I Ruled the World," is a big-budget crime story video that has Nas cavorting with a bunch of old, white ganglords in Las Vegas.

You have to wonder how many times Nas saw Casino before decidng to make his own five-minute version. I've ca-seen the Scorcese film myself, and this is a decent homage to it, although it sets up a situation that is never resolved. And is it just me or does this video play more of the oldie song "Love is Strange" than "Street Dreams"?
---
89. Marilyn Manson -- Sweet Dreams 0
This gets the award for most unnecessary remake of the year (slightly superseding The Artist Formerly Known as Prince's version of Joan Osborne's "One of Us"), and is probably one of the bottom ten cover songs of all time. I'm biased toward the 80's, everyone knows that, and I love the Eurythmics 1983 staple song, "Sweet Dreams (Are Made of This)."
Picture my revulsion, then, upon seeing this video for the first time. I thought it was a joke, like that video of the little girl lip syching "Ironic." I soon found out Marilyn Manson is a serious act, albeit still a joke to me. My only consolation is that, after selling millions of albums to non-discriminating teens, Manson will go down in history as the novelty act that revived devil rock and gave TV evangelists something to complain about again.
---
88. Fugees (Refugee Camp) -- Fu-Gee-La ***
A few of us caught onto the Fugees before everyone else did. Thanks to heavy airplay from MTV, the Fugees became famous among college-age students before "Killing Me Softly" even began to saturate radio waves. By mid-summer, of course, everyone was on the Fugees bandwagon, calling them Revolutionaries of Rap and other such clever alliterative titles.

"Fu-Gee-La" is probably their most creative hit song, although its chorus samples the hell out of "Ooh La La La." The video has plenty of influences of its own, as Lauryn, Pras and Wyclef play spies outrunning the authorities somewhere in central America. You ever get the feeling the Fugees take themselves way too seriously? Guys, relax, you've sold millions.
---
87. Tracy Chapman -- Give Me One Reason **1/2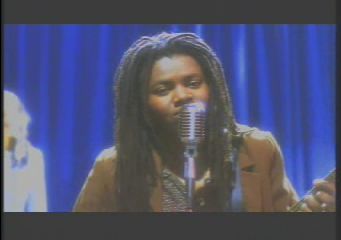 If any tabloid psychic had predicted in December of 1995 that Tracy Chapman would have the biggest hit of her career the following year, he or she would be laughed out of town, yet somehow Tracy managed to reverse her one-hit wonder status in 1996 with the bluesy and catchy "Give Me One Reason."
In a highly-superficial record industry, it's a wonder she ever got a recording contract at all. It has to be said -- the girl is ugly. Even Grace Jones and Whoopi Goldberg are more feminine than she is. But she can sing, and sing is about all she does in this video.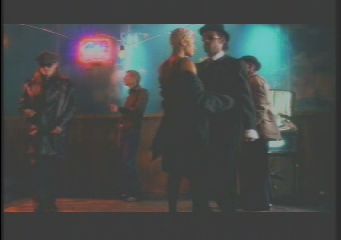 "Give Me One Reason" is a nightclub performance video that would be boring if it didn't look so good. It's got that bold, bright color scheme the best music video directors shoot their videos with -- my man Hype Williams being at the forefront of this technique.
---
TOO NEW. Dave Matthews Band -- Crash Into Me ***1/2
Periodically in the MTV Top 100 countdown, they showed videos which were too new to make it into the year-end survey. This first one comes from Dave Matthews Band, which is one of the few bands today that has offered good and great videos with every new release. Call me an extremist, but "Crash Into Me" is the best DMB video ever, a beautiful, highly-artistic piece that features a moving watercolor portrait as well as overhead shots of the bass player on a giant cello in the lake and other such visually creative elements. Good work, Dean Karr, whoever the hell you arr.
---
86. R.E.M. -- Bittersweet Me *1/2
When did R.E.M. become so damn pretentious? I talked about the Fugees taking themselves seriously, but they come off as the Three Stooges in comparison to the perpetually somber R.E.M. If they were any more serious, they'd be dead. After the stifling Automatic For the People album they tried to have a little fun with Monster, but now Michael Stipe and the rest are back to their old selves.
Stipe is the worst offender here, someone who wants to influence the thinking of a generation of youth but is such a freak that any such change is impossible. The guy scares small children and if he doesn't start growing some hair again he's going to look like Jason Voorhees without the hockey mask. I've got a friend that idolizes Stipe, and every time I start criticizing him, he tells me "Michael Stipe isn't a can, so don't label him." But you know if he was a can, the label would read "FRUIT" in giant letters.
As you've probably guessed, I can't stomach much of Stipe and, unfortunately, every R.E.M. video lingers on him most of the time. "Bittersweet Me" has the added bonus of intercutting a phony foreign film that's even more moody and non-sensical than Stipe himself. "He's all static... and desire," the woman observes, and even though the woman is Italian babe Valeria Golino, I still burst into laughter. Sorry, Mike.
---
85. Maxwell -- Ascension (Don't Ever Wonder) **
Maxwell, don't ever wonder why you only charted once. Only thing I wonder is if his last name is House... although from the looks of this video his last name might be Kravitz. Maxwell, in a silver jump suit, sings into the microphone to a procession of women, most of which are very nice to look at. It was a good decision on the part of the director to have everyone dress in cutting-edge fashions. You don't have to worry about your video looking dated when you know it's not going to get played again the year after its release.
---
84. Red Hot Chili Peppers -- Love Rollercoaster ***
From the soundtrack of Beavis and Butt-head Do America comes a music video that's better than the movie itself, and the Peppers' grooviest song since "Higher Ground." Both of those are remakes of soul classics, which leads me to believe the Chili Peppers should cover a few more 70's tunes. "Boogie Oogie Oogie," "Shake Your Groove Thang," the sky is the limit.
The video for "Love Rollercoaster," like a few others in recent years (e.g. U2's "Hold Me, Thrill Me, Kiss Me, Kill Me") is completely animated. The clips from the Beavis and Butt-head movie integrate into the video a lot more easily that way and the cartoon Chili Peppers can stretch the bounds of reality even more so than usual, while riding a giant cartoon roller coaster... of love, I presume.
---
83. Eric Clapton -- Change the World **1/2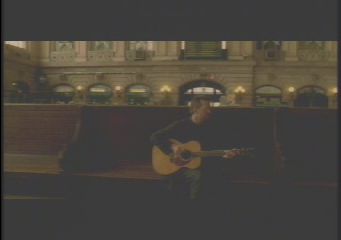 "Change the World" was the enormous adult-contemporary hit from Phenomenon, the John Travolta film about an average guy who acquires psychic powers. This song had a phenomenon of its own -- actually making me like Eric Clapton. Before this, I had no respect for him whatsoever. My review of his "Motherless Child" video started out, "Welcome to Old Fartsville; Mayor: Eric Clapton."
But somehow I absolutely loved this song, which was one of my five personal favorites of the year. The video doesn't quite measure up, though. It's four minutes of Clapton and Babyface playing guitar in an empty bus station while clips from Phenomenon play. So Clapton didn't completely win me over with this one.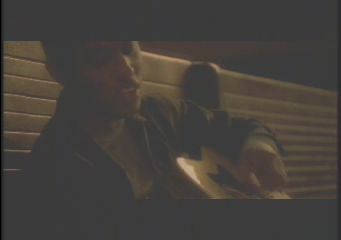 ---
82. 2Pac featuring Snoop Doggy Dogg -- 2 of Amerikaz Most Wanted ***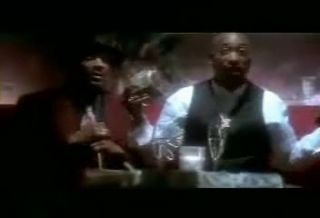 The defining rap album of 1996 was 2Pac's All Eyez on Me, which spawned four videos on this countdown, all of which featured collaborations from the biggest names in rap and R+B. This one teams 2Pac with Death Row Records' biggest star, Snoop Doggy Dogg, in one of the many misspelled songs from All Eyez on Me. Of the 27 songs on the double-disc set, only six are spelled correctly. Then again, I don't speak Ebonics.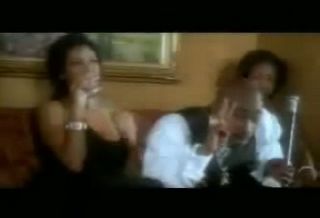 "2 of Amerikaz Most Wanted" is a stylish gangsta rap video with the usual images of rappers as pimps, police car chases and courtroom trials. This time, 2Pac Flynt throws paper at one of the attorneys, who gets really mad. Mad enough to pump 2Pac full of lead, perhaps? In the realm of rap, most songs sound the same, but 2Pac's sound-alikes are at least good.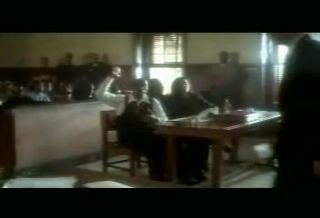 What remains unresolved is just who killed 2Pac. Many suspect 2Pac's death was perpetrated at the hands of the East Coast rappers 2Pac was perpetually feuding with. Some suspected the Notorious B.I.G. at first, but it turns out he does have an alibi. It was All You Can Eat Ribs night at the Long Island Sizzler.
---
81. Stone Temple Pilots -- Lady Picture Show **1/2
STP has never won a Video Vanguard award, and there's a reason for that. They've never made a truly good video, especially in the batch from their Tiny Music album. "Lady Picture Show" is the most artistic one in the bunch, a grainy black-and-white video that recreates the stag movies of the 30's and 40's that had scantily-clad women dancing around. Singer Scott Weiland even gets into the spirit by wearing mascara and an earring. His judgment isn't the best after a few hypodermics of H, you have to remember.
---
To Videos #80-71
Back to the eMpTyV Homepage
---
Copyright 1997 Andrew Hicks / Fatboy Productions